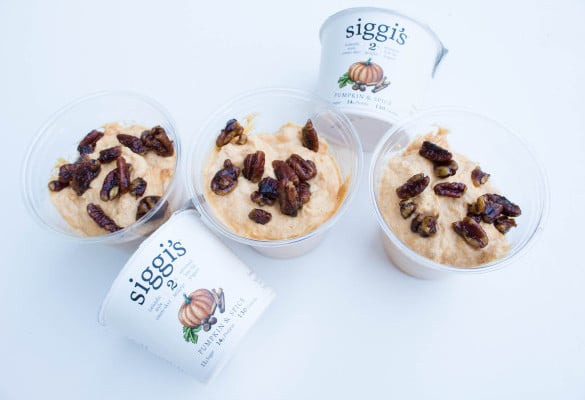 Disclosure: "By posting this recipe I am entering a recipe contest sponsored by siggi's yogurt and am eligible to wine prizes associated with the contest. I was not compensated for my time."
We all know how in love I am with siggi's yogurt – not only for the taste but the nutritional quality of the product as well. Not too long ago I posted a blog post titled "5 Reasons Why I Love siggi's Yogurt." Give it a quick read if you have not already! Before Siggi created this product I always had a hard time finding a favorite yogurt, mainly because of the sugar content. This yogurt certainly stands out from the rest of the pack due to the "simple ingredients, and not a lot of sugar." I loved learning in Nashville this year during the siggi's breakfast that Siggi's tagline of "simple ingredients, not a lot of sugar" has stayed true to his business from the very beginning. Not many companies can say that!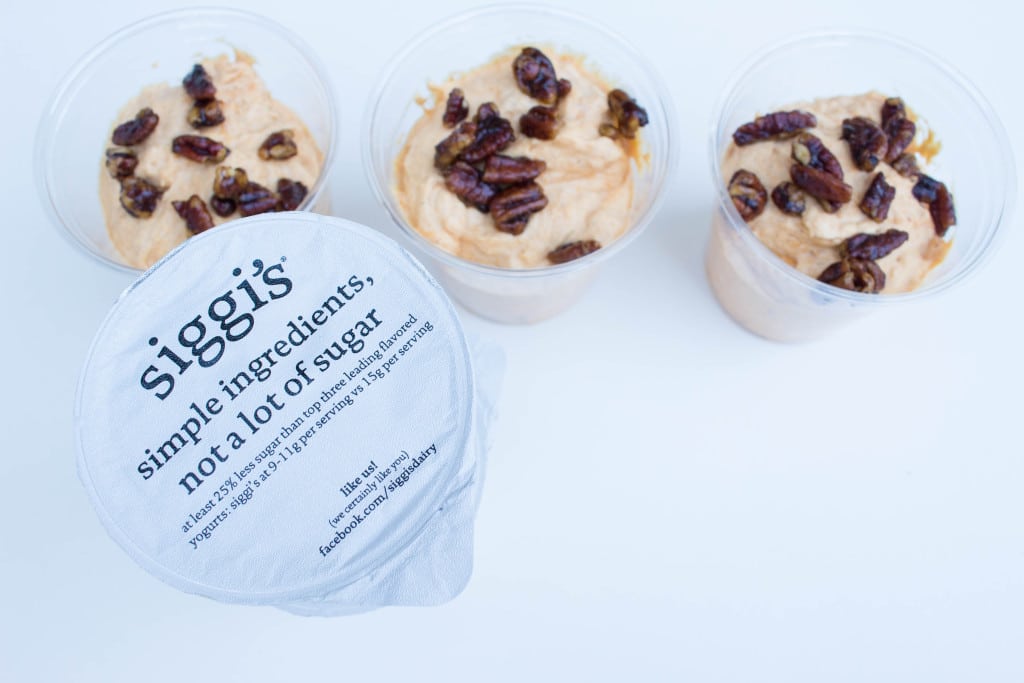 I am also a huge fan of the protein content in this yogurt!! With 13-15g of protein per 5.3 oz and only 9-11g of sugar – that is a win-win if you ask me. Some yogurts on the shelves at the supermarket are almost comparable sugar wise to a soda, yuck! Finding more protein than sugar in a yogurt is rare, which is why siggi's yogurt ROCKS 🙂 Not to mention…meeting Siggi at the Food Expo was the highlight of FNCE!!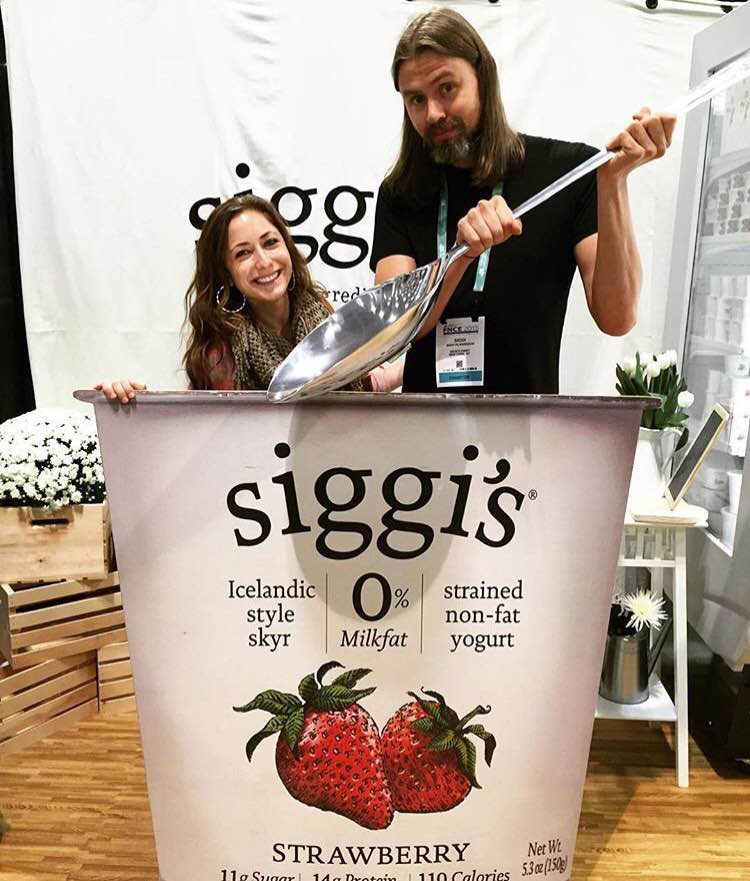 A few Thanksgivings back I made this Pumpkin Mousse dessert for my family and everyone LOVED it. When Siggi rolled out with his Pumpkin & Spice flavored yogurt I immediately thought of all of the yummy desserts I can include it in. Without skipping a beat, I made my mousse recipe with the siggi's Pumpkin and Spice yogurt and yes, it was even better. This creamy and light dessert will leave your family and friends begging for more! The spiced pecans on top add a perfect finish and crunch to the mousse as well.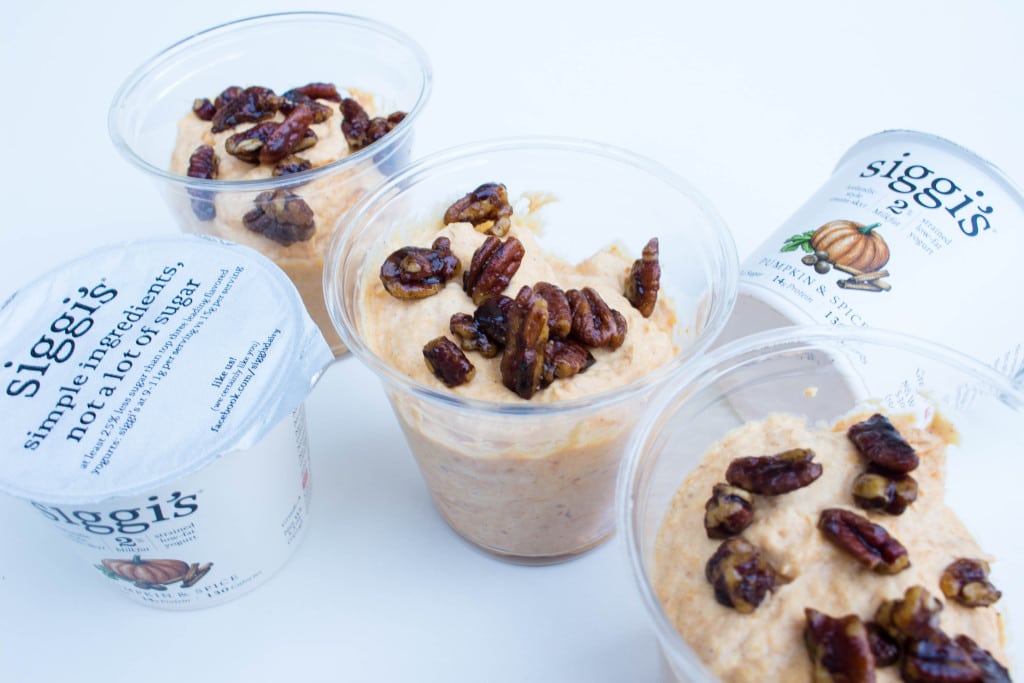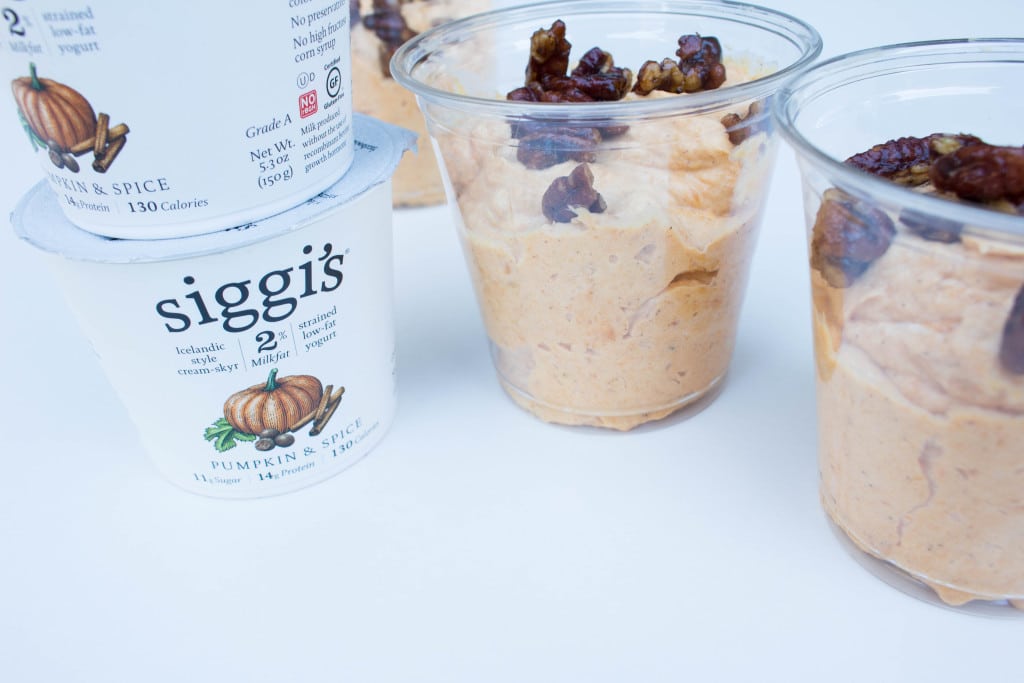 Here are some other recipes I have created with siggi's yogurt as well:
Siggi's Yogurt Banana Pancakes
Pumpkin & Spice Muffins with siggi's yogurt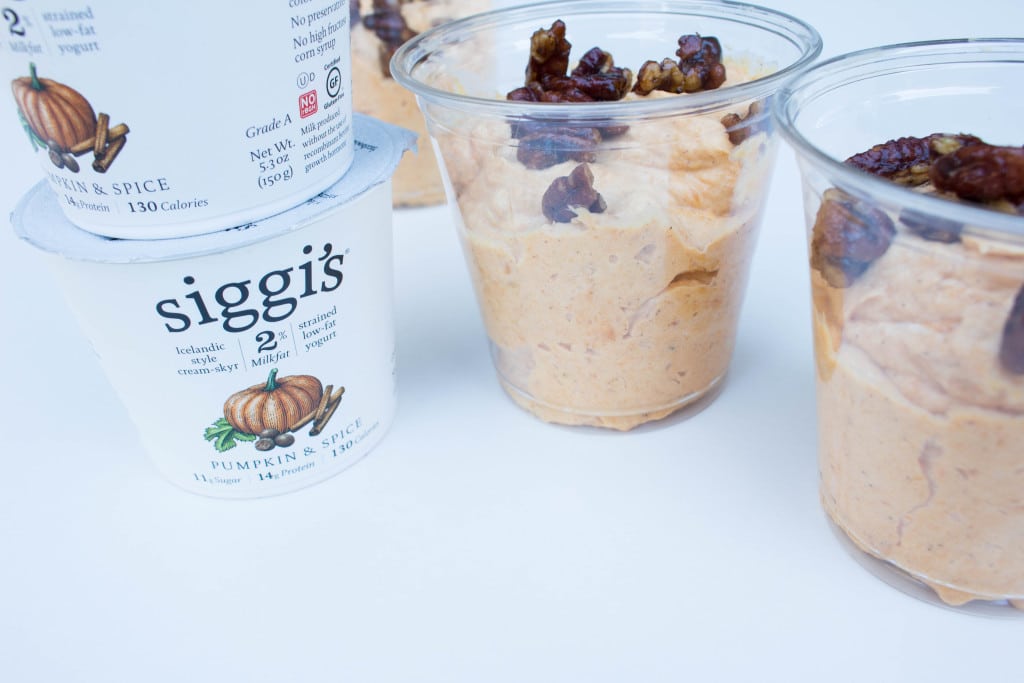 Pumpkin Mousse w/ siggi's Pumpkin & Spice Yogurt
2015-11-12 14:17:58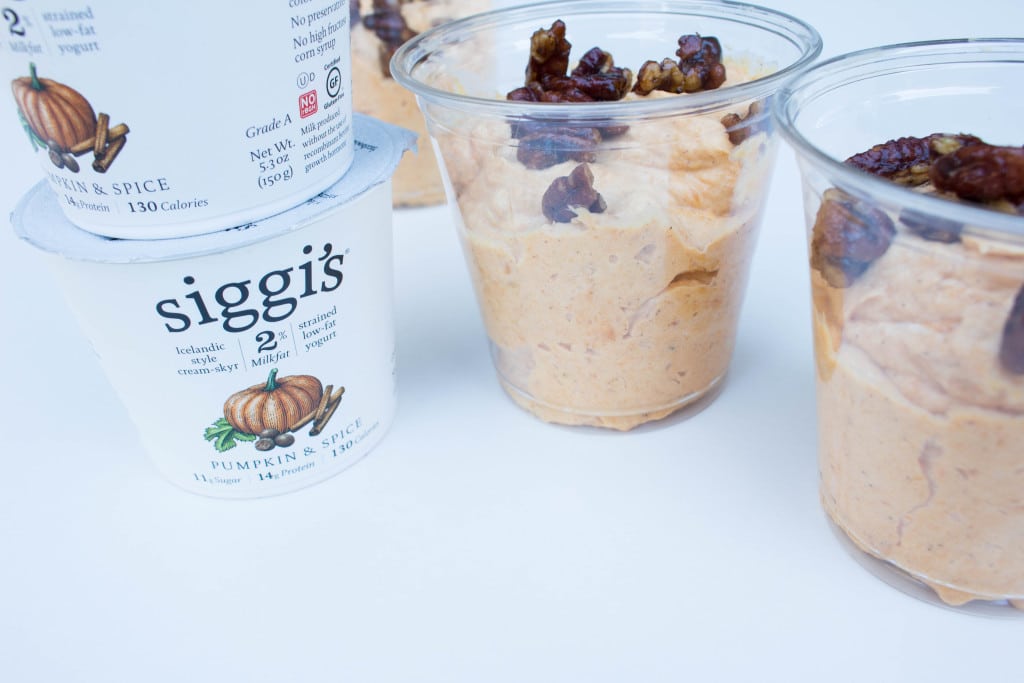 Serves 6
For the mousse
1 (5.3 oz) container of Pumpkin & Spice siggi's yogurt
1 cup Heavy cream, cold
1 (15 oz) can pumpkin puree
1/3 cup evaporated milk
1 (3.4 oz) box pumpkin spice flavored instant pudding
1/2 tsp. pumpkin spice
1 tsp. vanilla extract
For the nuts (optional)
1 tsp. salt
1/2 tsp. cumin
1/2 tsp. cayenne pepper
1/2 tsp. cinnamon
1/2 tsp. orange zest
1 cup pecans
4 Tbsp. Kerrygold butter
1/3 cup light brown sugar
2 Tbsp. water
Directions
Using your Kitchen Aid, whisk the heavy cream until medium peaks are formed.
In a large bowl, whisk together the pumpkin puree and milk. Add the yogurt, pudding mix, pumpkin pie spice and vanilla and whisk to combine. Fold in the whipped cream and combine thoroughly.
Transfer the mousse into ramekins or cups and refrigerate for 1 hour before serving.
For the nuts
Line a cookie sheet with parchment paper, set aside.
Mix the salt, cumin, cayenne, cinnamon and orange peel together in a small bowl - set aside.
Place the chopped pecans in a cast iron skillet over medium heat. Toast for about 3 minutes. Add the butter and stir until it is melted. Then add the spice mixture, sugar, and water. Stir until mixture thickens, about 2 minutes.
Transfer the nuts to the cookie sheet and separate the nuts so they are not sticking together. Let nuts cool completely. It is optional to place nuts on top of mousse - but I highly recommend!
Notes
Nuts are optional
Krolls Korner https://krollskorner.com/
I hope you enjoy! Remember to purchase siggi's yogurt at your local grocery store for "simple ingredients and not a lot of sugar!" Plus…every cup contains MORE PROTEIN than sugar ! 🙂
Loading InLinkz ...