Mexican Butternut Squash Lasagna
Dinner | Published on Mar 14, 2015 | Last modified on Aug 20, 2019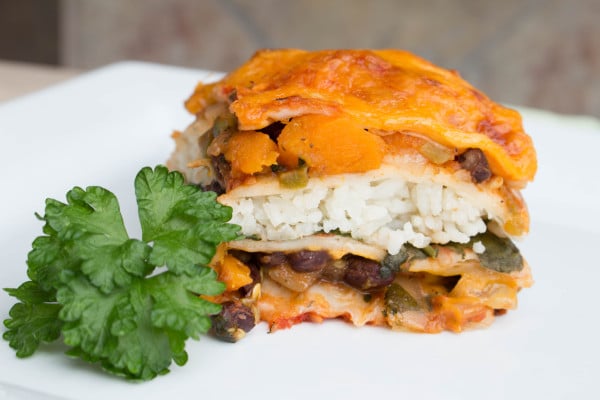 Disclosure: "By posting this recipe I am entering a recipe contest sponsored by USA Rice Federation and am eligible to win prizes associated with the contest. I was not compensated for my time."
Let's think about rice today…specifically U.S.-grown rice! Rice is such a fun grain isn't it? It can be used from soups and side dishes to sushi and rice pudding. Pretty cool to think about if you ask me! One of the perks of having a career revolving around food is experimenting and using my creativity and culinary skills to the fullest. It is so satisfying being able to cook with food as simple as rice and create it into a flavorful, healthy, and satisfying dish.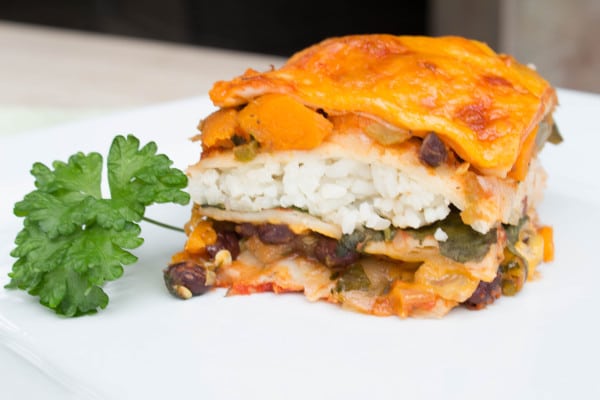 Why is U.S.- grown rice so wonderful? First off, it is easy to prepare and pairs nicely with other vegetables, just like shown here in this high protein vegetable Mexican lasagna. Not only does it pair with healthy vegetables but also with seafood and lean proteins which makes for a nutritious and well-rounded meal. I want to encourage everyone to "Bite Into A Healthy Lifestyle" during this National Nutrition Month with U.S.- Grown Rice! Rice is part of a balanced diet and fits into the grains section of MyPlate. The USDA recommends 6 servings of grains per day (based on a 2,000 calorie diet), and half of the grains coming from whole grains (such as U.S.- grown brown rice).
Here are 5 Reasons from the USA Rice Federation to add rice into your diet! (http://www.usarice.com/doclib/157/6791.pdf)
1. Nutritional Punch: Rice packs in more than 15 necessary vitamins and minerals, including B-vitamins, iron and zinc; just 1 cup of enriched white rice contains nearly 25% of your daily folic acid requirement.
2. Gluten-Free Goodness Enriched: Great for the patient with Celiac Disease! White rice and whole grain brown rice are naturally and completely gluten-free. Rice is also one of the least allergenic foods out there, making it a great choice for people with a variety of food sensitivities.
3. Fat- free: Rice is virtually fat free and, more specifically, contains no cholesterol-raising trans fat or saturated fat.
4. Stay Healthy With U.S. – Grown Rice: Whole grains, such as brown rice, help reduce the risk of chronic illnesses, including heart disease, diabetes and certain cancers. Rice eaters may also lower their risk of high blood pressure by 34%.
5. Fill 'er Up with Rice: One human clinical study found that a serving of white or brown rice provides satiety — that feeling of fullness — and relatively few calories to help make it easier to stick with a calorie-controlled eating plan.
This recipe is perfect for a vegetarian dinner and includes healthy fats, fiber, vitamin A and many other essential vitamins and minerals. The peppers used in this meal give it a spicy kick, but are completely optional. The flavor combination of the fresh poblano pepper and cilantro complement each other perfectly. This is a great dish and can even be enjoyed for breakfast with a poached egg!

Mexican Butternut Squash Lasagna
Print Recipe
Pin Recipe
Rate
Ingredients
1

medium sized butternut squash

peeled and diced

1

white onion

chopped

1

poblano pepper

cored and sliced

1

large fresh jalapeno

cored and sliced (optional)

2

tablespoons

garlic olive oil

1

teaspoon

cumin powder

salt & pepper

to taste

1

15 ounce can low sodium black beans, drained and rinsed

1/2

cup

fresh cilantro

chopped

4

oz.

can diced chiles

1

cup

fresh baby spinach leaves

roughly chopped

1

Hass avocado

2

cups

salsa

I used Pace

2

cups

U.S.- grown white rice

cooked

6

large tortillas; quartered

1

and 1/2 cups shredded cheddar cheese
Instructions
Preheat the oven to 400°F.

Place the diced butternut squash, sliced onion, jalapeno and poblano pepper in a 9 x 13" baking dish and toss with the garlic olive oil, cumin and salt & pepper. Mix until evenly distributed. Roast vegetables in the oven for 40 or until the squash is tender.

Transfer vegetables to a large bowl along with 1 cup salsa, canned chilies, black beans and chopped cilantro. Using the same baking dish that you roasted the veggies in, prepare the Mexican lasagna by spreading 1/3 cup of the Pace salsa along the bottom, then cover with a layer of two tortillas. Top the tortillas with 1/3 of the roasted vegetable mixture then 1/2 cup cheese.

Layer two more tortillas on top of the vegetables followed by more salsa, 1 cup baby spinach and then rice. Layer two more tortillas, 1/3 cup salsa and the last of the vegetables on top. Layer 2 more tortilla and then sprinkle with remaining cheese and place in the oven for 10-15 minutes.

Allow to cool for five minutes then cut into squares and serve. Garnish with fresh avocado.
Notes
I adapted some of this recipe and made it into my own! 🙂
Chop the tortillas into fourths to fit nicely in the baking dish. Enjoy!

I'd love to see what you made!!
Share it with me on Instagram or Facebook and tag me @krolls_korner or use the hashtag #KrollsKorner!