Hawaiian Surf n' Turf Kabobs
Dinner | Published on Feb 17, 2015 | Last modified on Aug 20, 2019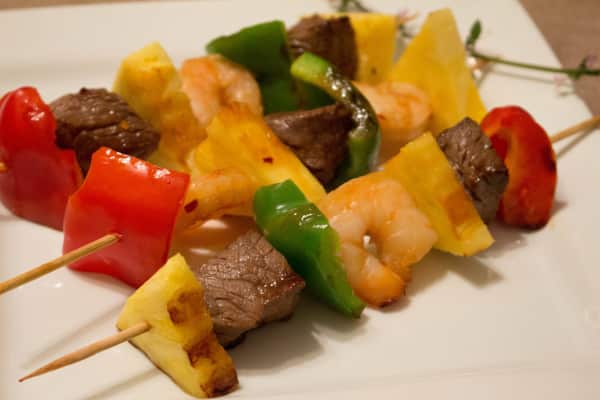 Even though focusing on a plant-based/Mediterranean diet is important, I believe including a few ounces of red meat in the diet once in a while won't hurt! Kabobs are great because they are pre-portioned and you can stack on the veggies. With these kabobs in particular I was going with a fresh Hawaiian theme so I chose red and green bell peppers, and also some fresh pineapple. You can add summer squash and onions too…or really any veggies you are feeling like. It is a good way to pack in extra vitamins and minerals. Also on these skewers are jumbo prawns and sirloin. (Surf n' Turf obviously). I marinated the sirloin for ~45 minutes, and the shrimp for ~10 minutes. Details below!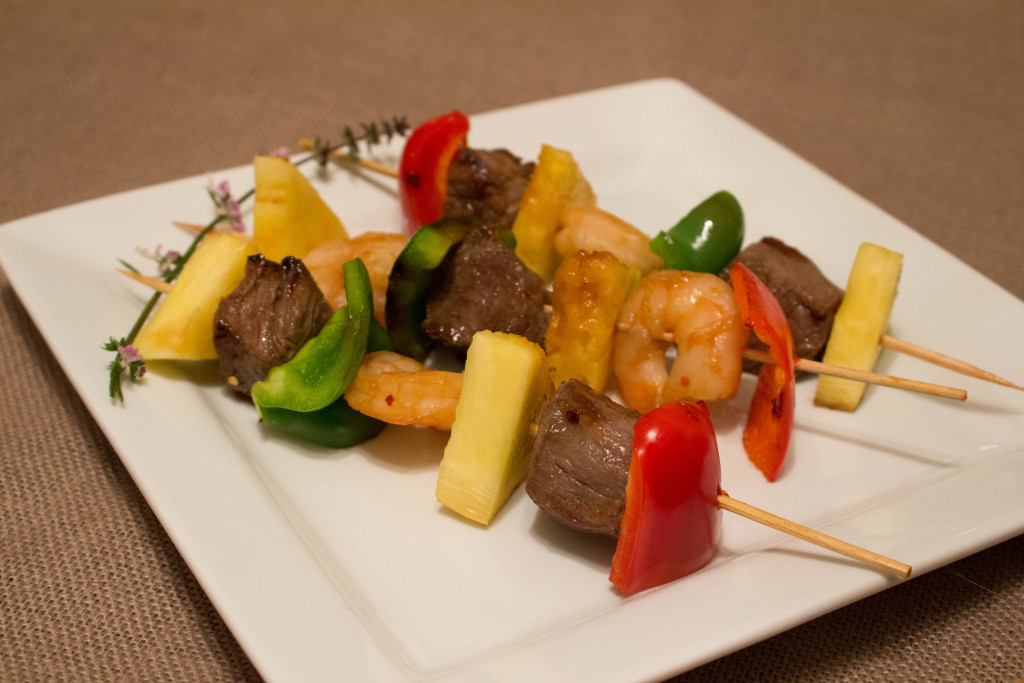 The American Heart Association says, "It's OK to eat red meat as long as you limit the amount." If someone has heart disease, eating a lot of red meat is not recommended. Focusing more on lean meats and fish would be a healthier option.
Use these tips below to lower saturated fat & cholesterol when choosing what types of meat to use for your kabobs, how much to eat, and how to cook it:
Remember one portion of meat is about the size of a deck of cards or three ounces.
Choose lean cuts of meat. Lean cuts usually contain the words "round," "loin" or "sirloin" on the package.
Trim off as much fat as you can before cooking, and pour off the melted fat after cooking.
Bake, broil, stew and grill for healthier cooking methods.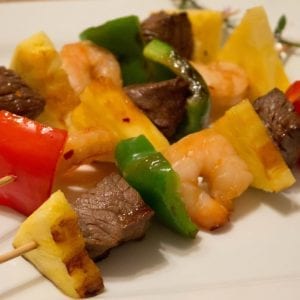 Hawaiian Surf n' Turf Kabobs
Print Recipe
Pin Recipe
Rate
Ingredients
15

oz

sirloin

1/2

lb

fresh jumbo prawns

1

cup

fresh pineapple

1

red and green bell pepper

10

Skewers
Marinade
5

Tbsp.

oyster sauce

1

Tbsp.

soy sauce

2

Tbsp.

apricot preserves

3

Tbsp.

lemon juice

4

Tbsp.

Avocado oil

1/4

cup

brown sugar

optional

1

tsp.

minced fresh ginger

1

tsp.

red pepper chili flakes

1/2

cup

Mirin sweet rice wine

1/4

tsp.

paprika
Instructions
Prep marinade. Combine all marinade ingredients, equally divide it - half for the meat and half for the shrimp, and place in zip lock bags. Cube your meat of choice and place in one of the baggies. Rinse and remove tails from shrimp and place in the other baggie with marinade. Let the meat marinade from 45 min- 4 hours, and shrimp for ~10 minutes.

While the meat and shrimp are marinating in the refrigerator, prep the veggies and fruit. Wash and chop the bell peppers into the square sizes you prefer. Cut pineapple about 3/4 inch thick triangles.

Once meat in done marinating, place bell pepper, meat, pineapple, and shrimp on each skewer in the order you desire.

Cook on a grill or George Foreman until meat is done and grill marks appear. Enjoy!
Notes
This dinner pairs nicely with Freekeh or bulgar pilaf and a side salad.
Hope you enjoy!

I'd love to see what you made!!
Share it with me on Instagram or Facebook and tag me @krolls_korner or use the hashtag #KrollsKorner!