Goat Cheese & Pistachio Stuffed Figs
Appetizers & Snacks | Published on Aug 5, 2015 | Last modified on Apr 2, 2018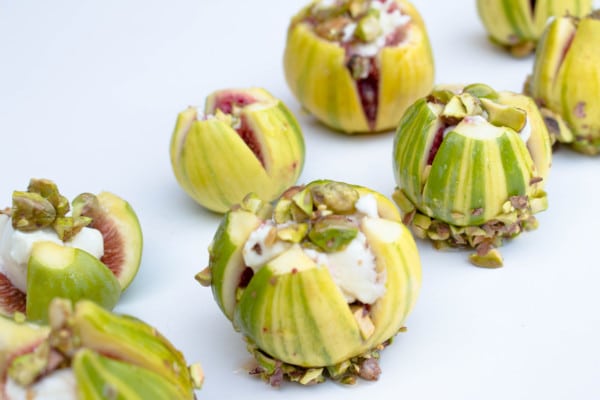 I am going to be honest with you all. I never really have given figs a change before! They always looked funky to me and just turned me off…but now that I have seen how beautiful all of the different varieties are and how gorgeous they look in food photography…I am slightly obsessed! Not to mention all of the health benefits these beauties reap, but I will get into that a little later on. So far I have only experimented in recipes with fresh figs but I am SO anxious to buy some dried figs in the near future.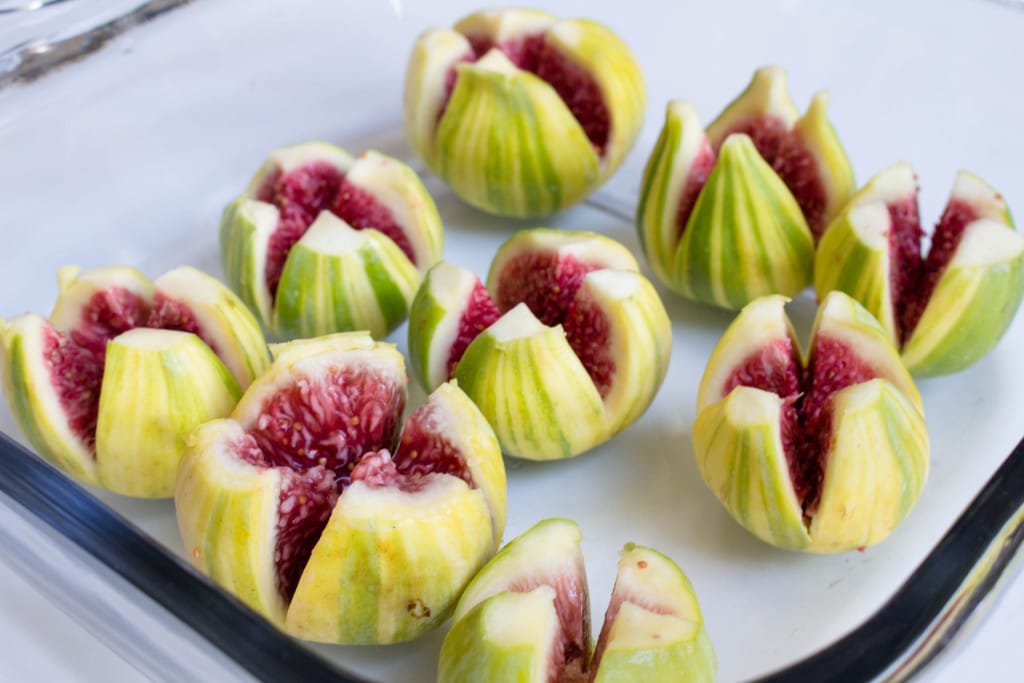 At Von's the other day I spotted some of these fresh Tiger Figs that just got delivered and could not resist. The man working had not even put them out on the shelves yet, and he cut one open in the middle of the store for me and had me try it out…I was immediately sold! Figs are in season right now (until about December) so they will be flying off the shelves in supermarkets and off the stands at local Farmers' Markets as well! And not to mention…The California Fig Fest is coming up August 15th! You do not want to miss out on this years festival mainly for the figs of course, but in addition TV Celebrity Chef Fabio Viviani will be in appearance! Any foodie out there would not want to miss the opportunity to meet him!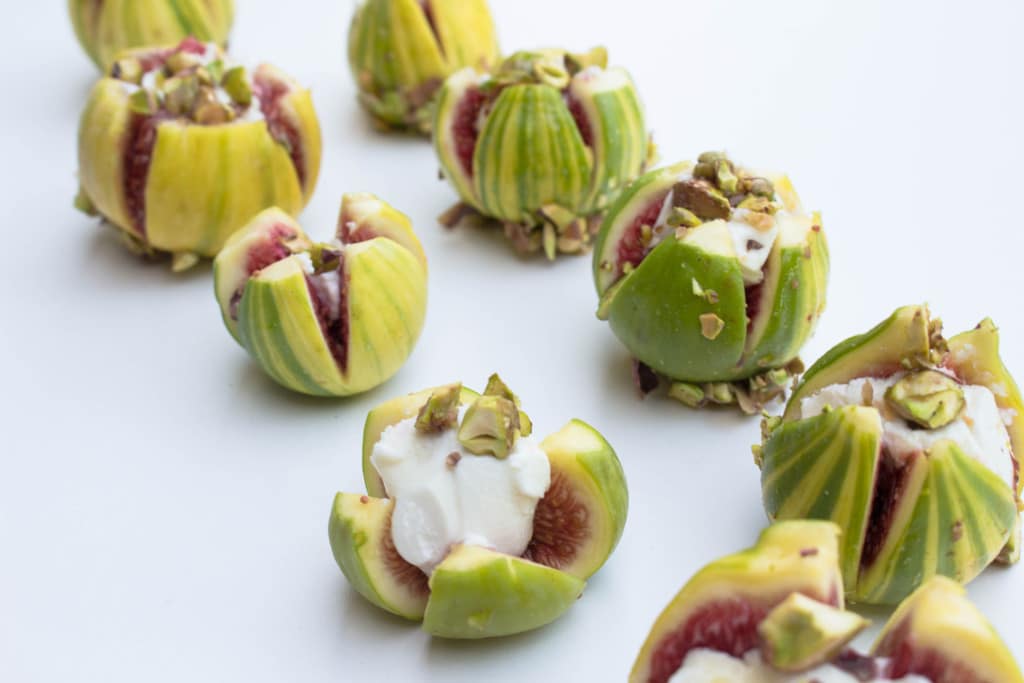 I was having a long debate about what cheese to stuff my figs with. It was a toss up between goat cheese, Gorgonzola, or ricotta. I figured the goat cheese would get the perfect melt in the oven and compliment the sweetness of the fig nicely! (And it totally did). I drizzled a touch of honey on top of these bad boys as well to make them more 'dessert-y.'
So what are some of the nutritional health benefits of figs?
Fiber content! 3-5 dried or fresh figs provide 5-6g fiber (which is important in preventing coronary heart disease and is cancer preventative).

Additionally, the pectin found in figs is fermented in the large intestine therefore acts as a prebiotic.

Need to get another serving of fruit in your diet? Enjoy 3-5 dried figs or 1/2 cup fresh figs!
Figs have more calcium, iron, and potassium than many other common fruits.

If you child is not wanting to drink milk, figs are a perfect source for your kiddo to try!
Also, the chock-full of both fiber and potassium in the figs can help regulate your blood pressure.

Wonderful source of antioxidants. We are interested in getting antioxidants from a variety of food sources to help protect cells against free radicals. These free radicals can damage cells which may play a role in heart disease and other chronic conditions.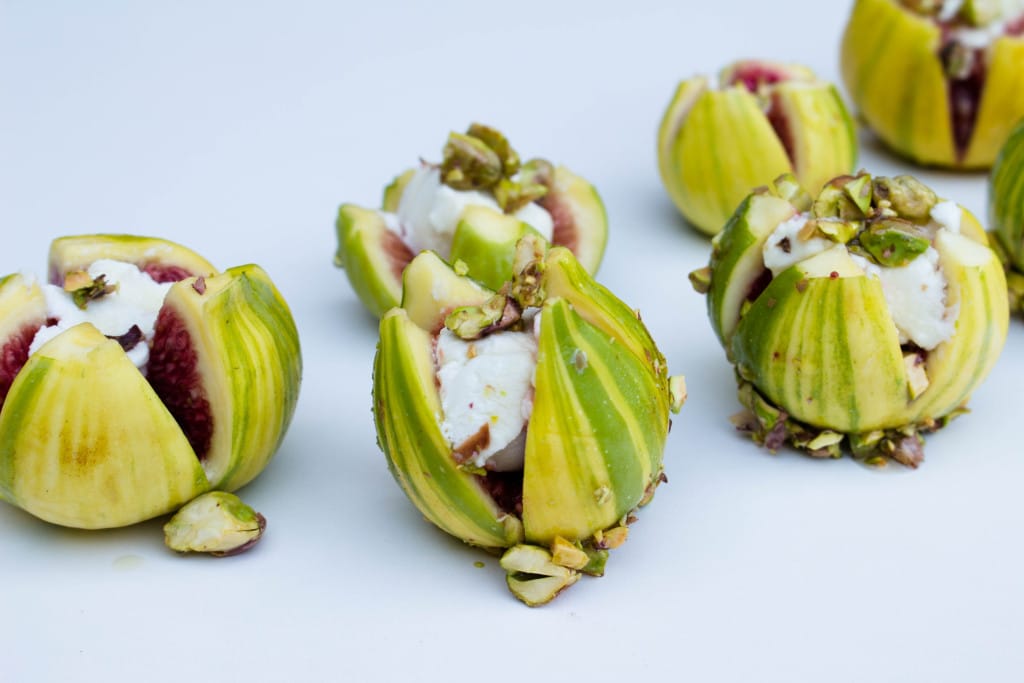 Resources on nutrition info: Eatrigh.org, californiafigs.com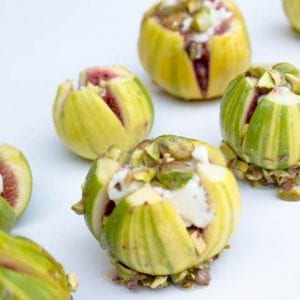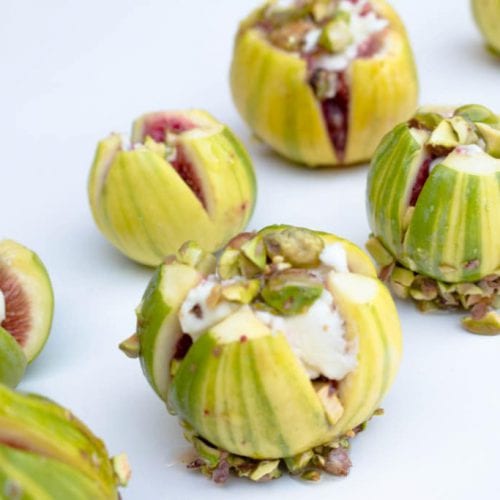 Goat Cheese & Pistachio Stuffed Figs
Print Recipe
Pin Recipe
Rate
Ingredients
8-10

fresh figs

Pictured: Tiger Figs

4

oz.

Goat Cheese

softened

1/2

cup

pistachios

chopped

1/4

cup

honey
Instructions
Pre-heat the oven to 350 degrees F. Cut the figs crisscross at the top about 1/3 way through and lay in an oven safe baking dish or a lined baking sheet. Shave a sliver off the bottom of your figs if they seem to be falling over.

Squeeze a dollop of cheese in the middle of each fig, about 1 Tbsp. You may have some leftover cheese!

Coat the bottom of your figs with just enough honey to get the pistachios to stick on the bottom and a little up the sides of each fig. Sprinkle any remaining nuts on the top.

Bake for 10-12 minutes or until cheese is slightly gooey. Drizzle with more honey on top and serve immediately. Enjoy!
Notes
Optional: Drizzle balsamic vinegar right before serving!
What is your favorite way to enjoy fresh figs?! I would love to hear your ideas! 🙂

I'd love to see what you made!!
Share it with me on Instagram or Facebook and tag me @krolls_korner or use the hashtag #KrollsKorner!