Crockpot Pork Tenderloin w/ Blackberry-Apple Chutney
Beef & Pork | Published on Nov 1, 2015 | Last modified on Aug 20, 2019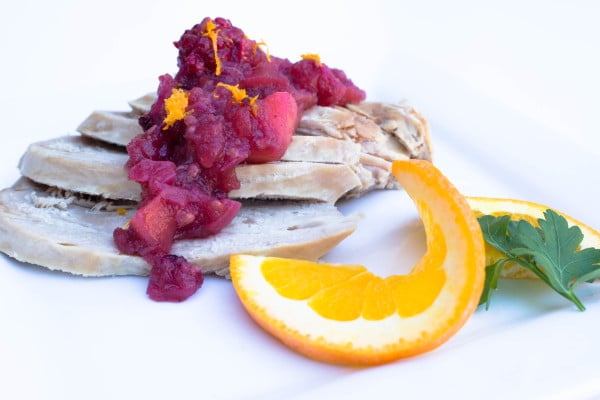 Happy November! Now that Halloween is over, I am allowed to start decorating for Christmas right? Haha. Not only decorating…but cooking and creating yummy holiday recipes! The Farm to Families produce box from 1st Quality Produce can sure help with all of the holiday cooking we are about to get in to. For instance, this recipe I am sharing with you all this from Week 20's box is guaranteed to be a hit with your friends and family. There are so many delicious goodies in this weeks box it was super hard to decide what to make from it. I finally decided to focus on using the fruits because I feel like getting innovative with using fruits, instead of just eating them how they come is fun! It is also a learning opportunity to see how you can cook and bake with the variety of fruits out there. Check out below what all is in this weeks box!
1st Quality Produce also has some great news! They are now proud sponsors of Valley Delicious! So, they have partnered up with a local news station – KSEE 24 – and Valley Delicious as a sponsor. Be sure to keep an eye out for their commercial coming soon to channel 24 along with the great new addition Valley Delicious has made to their set!
See what I mean? SO many fresh fruits and veggies to cook or bake with – the opportunities seem endless. In this recipe I utilized the Red Delicious apples, the oranges, and the blackberries. As a side dish for the pork, you can cook the artichokes and make a lemon aioli dipping sauce , hassle-back potatoes, or saute the zucchini with olive oil, salt, and pepper 🙂 You can also make homemade Sriracha potato wedges with the potatoes, click here for the recipe on my blog! And, if you have yet to make zoodles (zucchini noodles) – I have several recipes on my blog on how to make them! For my avocado pesto zoodles click here. 🙂
[Tweet "Enjoy this Pork Tenderloin w/ Blackberry-Apple Chutey this holiday season! 🙂 "]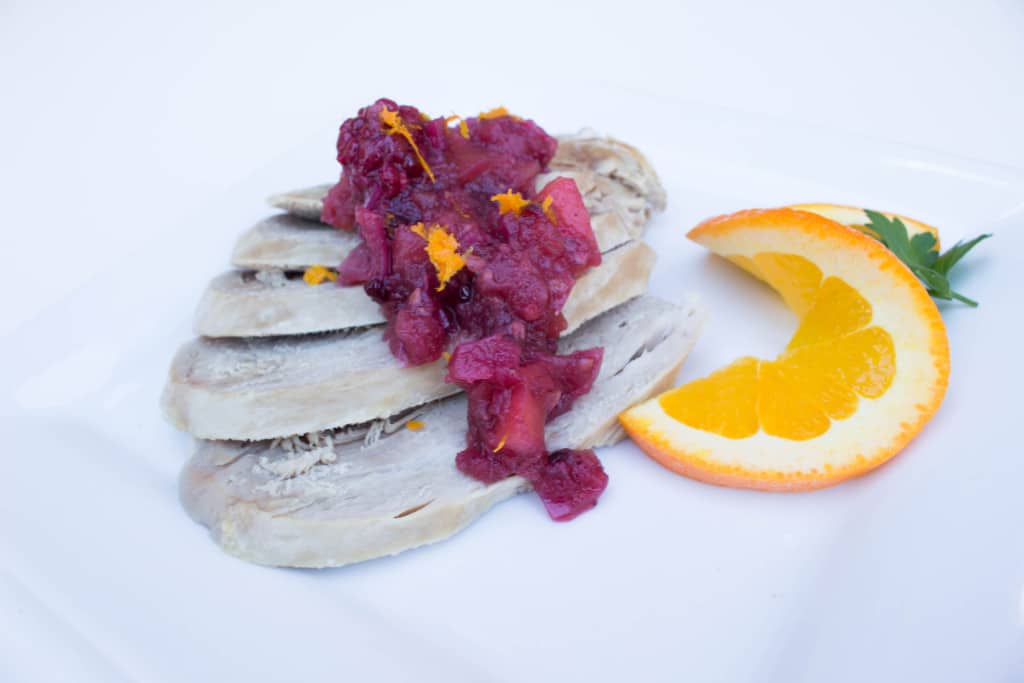 I did not use Bramley apples, but I highly recommend cooking this recipe with both the Red Delicious apples and the Bramley apples. This is because the Bramley apples contain a higher acid content and lower sugar levels which produce a tangier tasting apple when it is cooked – this compliments the chutney nicely. The regular "eating apples" like the Red Delicious have lower levels of acid and a higher sugar content giving them the sweet flavor which is why we like to eat them! 🙂 When cooked – this means they lose that apple flavor, so it is nice to balance it out with the Bramley apples.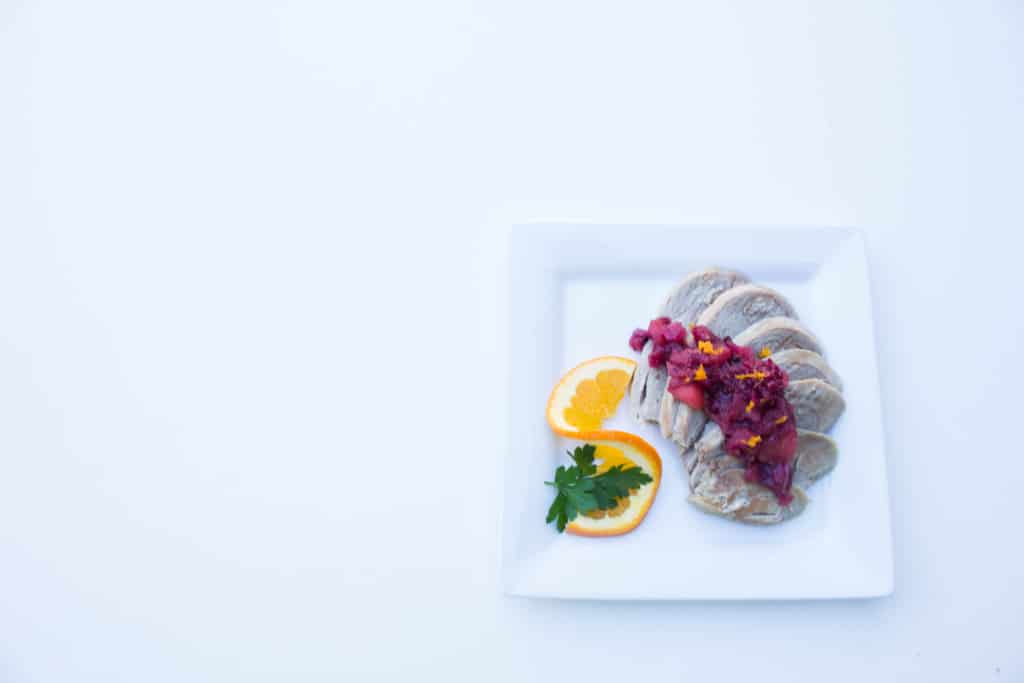 Some general information from 1st Quality Produce:
Pricing for the boxes:
1-10 Boxes, $24.99
11-19 Boxes, $22.99
20+ Boxes, $20.99
Twitter: @1stQualityProduce
Don't forget to order YOUR
Farm to Families
box Monday-Thursday by 3PM by calling 559.442.1932, e-mail
[email protected]
, or online ordering is available
here
! Box pick up locations are now at 3 locations: 1st Quality Produce, Bar Method Fresno, and Lulu Lemon. For location and more information can be found
here
!
Disclosure: I was compensated for my time by 1st Quality Produce to write this post. All opinions of content are my own. Thank you for supporting the brands and companies I collaborate with through Kroll's Korner.
Ingredients: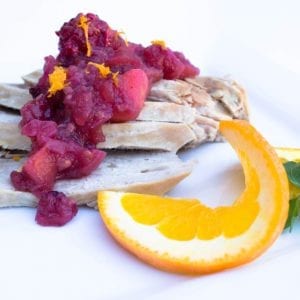 Crockpot Pork Tenderloin w/ Blackberry-Apple Chutney
Print Recipe
Pin Recipe
Rate
Ingredients
Pork tenderloin - my package came with 2

I only cooked one and place the other in the freezer

1/2

cup

water

1

container of blackberries

4

Red Delicious Apples

peeled, cored and cut into large chunks

1/2

cup

white sugar

1

tsp.

cinnamon

2

Tbsp.

apple cider vinegar

1/2

red onion

diced

Fresh black pepper

2

Tbsp.

orange zest
Instructions
In your crock pot, place the pork tenderloin with 1/2 cup water on high for 4 hours. Easy peasy!
For the chutney
Put the apples, red onion, sugar, cinnamon, apple cider vinegar, 1 Tbsp. orange zest and pepper into a medium-large saucepan. Place over medium heat and gently stir together until well combined. Once this mixture begins to boil, turn down the heat and let it simmer for 45 minutes. Be sure to stir occasionally. The apples and onions will become soft and the liquid will start to thicken and create a syrup like consistency.

The last 10 minutes of cooking the chutney, add in the blackberries. When finished, remove from heat and set aside to cool. Place in fridge until pork is ready.

Slice pork and spoon chutney over the meat. Garnish with remaining orange zest. Enjoy with veggies or a side salad!
Hi, I'm 
Tawnie

!

Welcome to my tiny "korner" on the Internet! I am a Registered Dietitian Nutritionist who loves cookies as much as kale. (OK, maybe I like cookies a little bit more but shh, don't tell anyone). I am so glad you're here! Follow along for hassle free, realistic and approachable recipes.

More about Tawnie

I'd love to see what you made!!
Share it with me on Instagram or Facebook and tag me @krolls_korner or use the hashtag #KrollsKorner!