Dinner
Chicken Tostada Bowls and Chicken Parmesan Baked Ziti
Welcome to another Recipe redux blog post! This months theme is 2 for 1…meaning I am going to show you how I made 1 dinner and then how I repurposed the leftovers into an entire new dinner entree. In this post I will be featuring Chicken Tostada Bowls and Chicken Parmesan Baked Ziti. I always find myself cooking off chicken breasts, and then always using the leftover chicken for a chicken salad, or simply chicken and rice. I wanted to share with you a fun way to re-use your chicken in a fun pasta dish that I am sure everyone in your family will enjoy!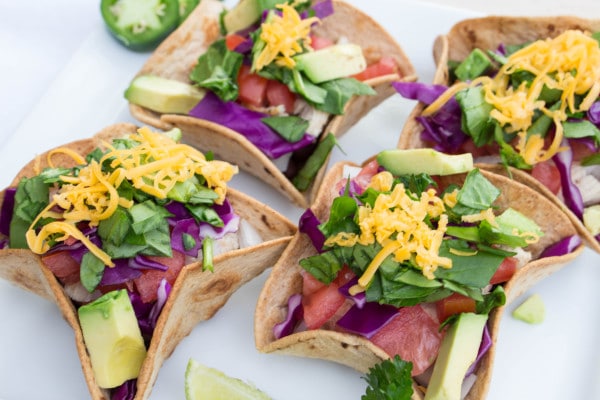 How cute are these? They are so simple to make and I used all fresh ingredients! I love the colors and they tasted fantastic too.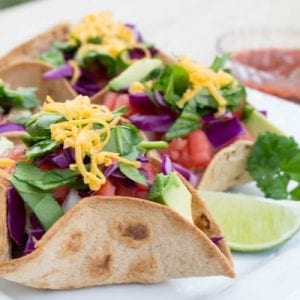 Chicken Tostada Bowls
Print
Ingredients
8

mini whole-wheat tortillas

4

boneless chicken breast

1

Hass Avocado

2-4

Roma tomatoes

2

cups

chopped spinach

3/4

cup

chopped red cabbage

1 15

oz.

can low-sodium black beans

1

Jalapeno

1-

cup

fresh salsa

1/4

cup

shredded cheddar

dash of salt and pepper

1/8

th tsp garlic powder

fresh oregano, basil leaves, and red pepper chili flakes

1

Tbsp.

fresh garlic
Instructions
In a large pan, place chicken breasts and garlic over medium heat and cook chicken. Season with salt, pepper, garlic powder, oregano, basil, and red pepper chili flakes.

While chicken is cooking, start the tortilla bowls. Pre-heat the oven to 375 degrees F. In a small frying pan, spray with cooking spray and turn heat on low. Lightly spray each side of tortilla with cooking spray as well and slightly toast each side of the tortilla. Using a 12-cup muffin tin or cupcake tin, flip upside down and place the warmed tortillas in-between each crevice to form a tortilla bowl. Cook in oven for ~8 minutes, or until browned and hardened.

Rinse and drain the black beans. Then dice the tomatoes, avocado, cabbage, spinach and jalapeno and set aside in a "line-up" so you can easily build your tostada bowls how you like.

Once chicken is done, dice up two of the chicken breasts in small pieces. (Use the other 2 chicken breasts for the next day, recipe below).

Build your bowls! I placed black beans and chicken on the bottom, then all of the veggies and avocado and topped with cheese and salsa! Garnish with lime.
So, what to do with the leftover chicken?! Make this easy chicken parmesan baked ziti dish of course! 🙂
I have made plenty of baked ziti's before – but never have I made one with chicken! I usually make a meat-free dish or one with ground turkey, but I especially enjoyed this one since the chicken was seasoned and cooked off the day before! It made for a quick, easy meal.
Has everyone been biting into a healthy lifestyle in honor of National Nutrition Month? Baked ziti doesn't necessarily scream "healthy" right? But I believe and like to promote that it IS healthy to let yourself have types of meals like this once in a while. I think it would be "unhealthy" to restrict yourself from a pasta dish all the time. Enjoy your pasta in moderation and bite into a healthy lifestyle with these 2 great meals!
Chicken Parmesan Baked Ziti
Print
Ingredients
1

box ziti noodles

2

chicken breasts

previously cooked

1-2

jar red sauce

I used homemade, use sauce of choice

3/4

cup

cup shredded mozzarella cheese

3/4

cup

ricotta

6

oz.

Parmesan cheese

1

bunch fresh basil

4

oz.

Provolone
Instructions
Bring a large pot of water to a boil. Once noodles are al dente, drain and place back into large pot.

Chop basil and chicken and set aside. Mix in chicken, 1/4 cup basil, red sauce and stir until well combined.

Preheat oven to 350. Take a 9" x 13" baking dish and spray with cooking spray. For the first layer, place 1/2 of pasta mixture on bottom of the pan. Then, place provolone and ricotta in the second layer. For the third layer, place the remaining pasta mixture and top with mozzarella and parmesan and any leftover basil.

Cook in oven for 15-20 minutes. Let sit for 5 minutes, then enjoy!

I'd love to see what you made!!
Share it with me on Instagram or Facebook and tag me @krolls_korner or use the hashtag #KrollsKorner!