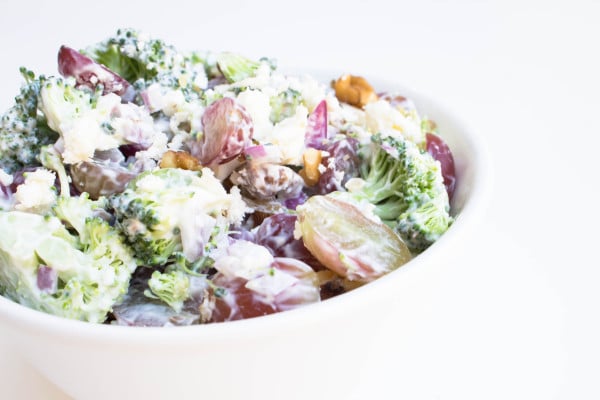 Great news! You can now order your Farm to Families produce box online AND box prices have reduced! Box prices now for 1-10 boxes: $24.99, 11-19 boxes: $22.99, and 20+ boxes: $20.99. So, if you have not ordered your Farm to Families fresh produce box yet from 1st Quality Produce now is the time. The contents of the box change each week to reflect what is in season and also to offer you and your family a variety of produce. It can be hard to get creative with meals in our busy lives and a lot of the time we fall into a habit of eating the same types of food over and over. I personally enjoy the challenge of trying new recipes and being innovative! There is so much more satisfaction of working hard in the kitchen to create a beautiful, healthy, tasty meal as opposed to getting fast food, right?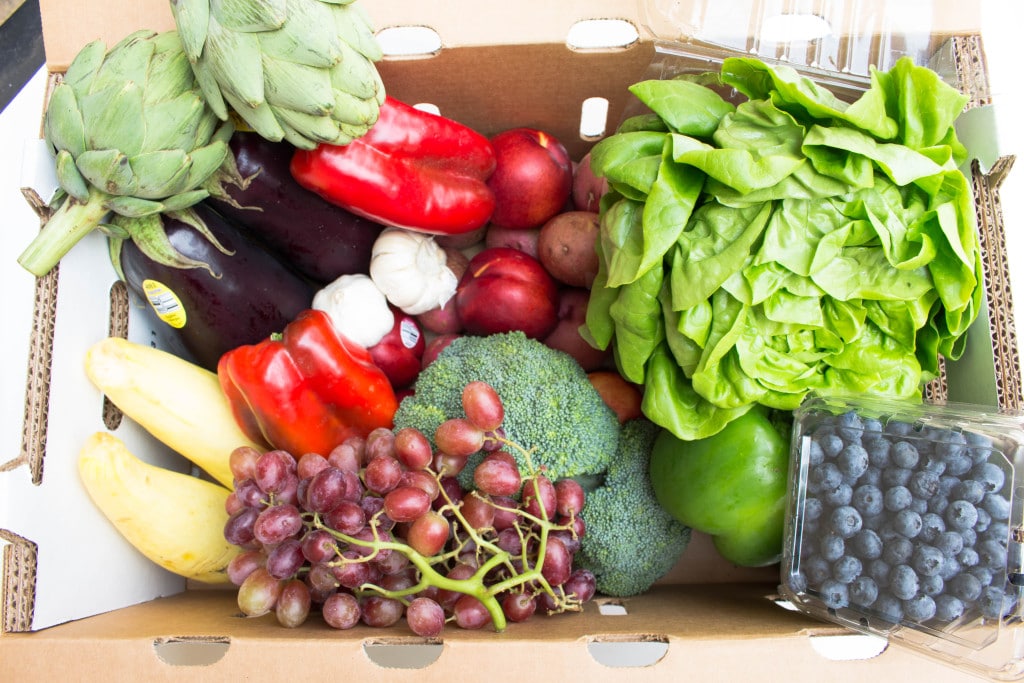 Week 14 box includes: 2 artichokes, 2 red bell peppers, 1 pint of fresh blueberries, 1 head of broccoli, 1 head butter lettuce, 2 eggplants, 2 bulbs of garlic, 1 bunch of red grapes, 4 nectarines, 12 red potatoes, and 2 yellow squash! mmmm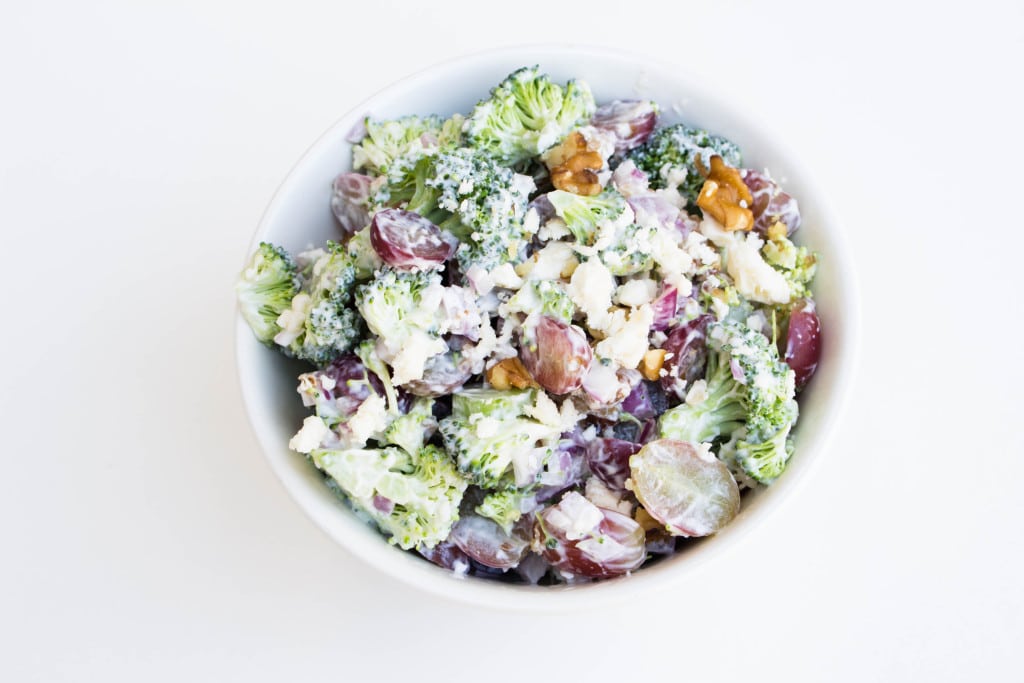 I think it is fun using grapes in cooking since we normally just eat them as they come! Try to get creative and use grapes to make different things like grape salsa or chicken flatbread with grapes! I often visit the Grapes from California website for a lot of fun and healthy recipes to use grapes in. Just about 17 grapes is 100 calories and they contain no fat, cholesterol, or sodium. They are an excellent source of vitamin K and contain plenty of antioxidants and polyphenols. 🙂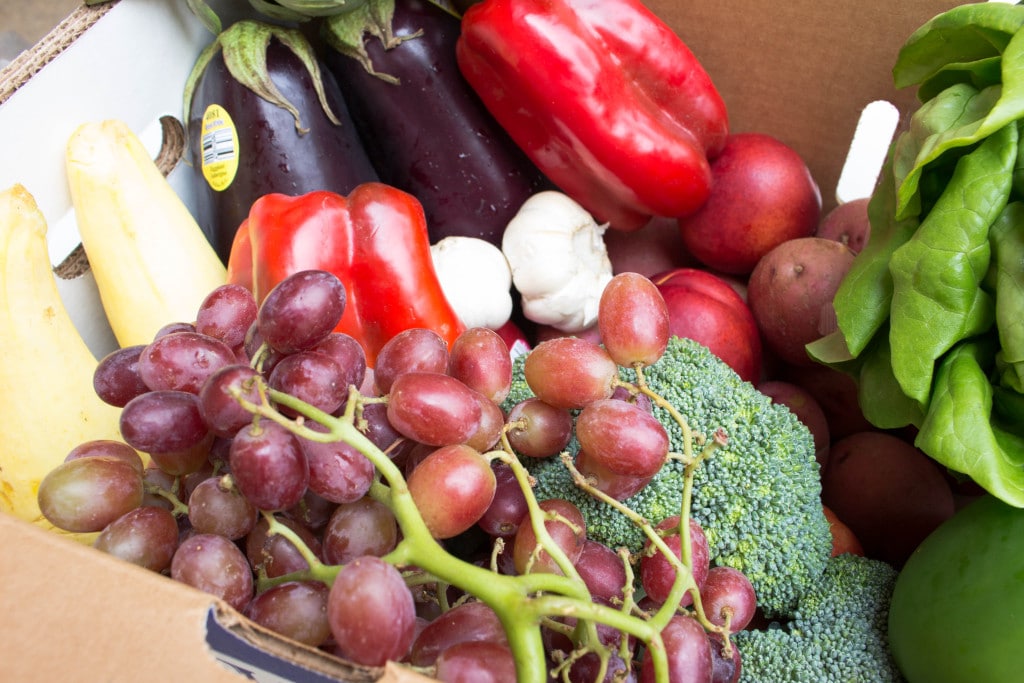 For this broccoli salad recipe, the only produce I used from this box was, well, the broccoli and the grapes! Since I only used 2 items, here are some other ideas of how you can use up the rest of the produce:
Eggplant parmesan, stuffed bell peppers, crock pot garlic mashed potatoes and garlic parmesan yellow squash chips. And you can use the blueberries and nectarines as toppings on cereal, oatmeal, yogurt or cottage cheese. I hope you like the recipe, I used half Chobani greek yogurt and mayo to cut down on the fat content! Enjoy!
Don't forget to order YOUR Farm to Families box Monday-Thursday by 3PM by calling 559.442.1932, e-mail info@firstqualityproduce.com, or NOW ONLINE ORDERING is available!
Disclosure: I was compensated for my time by 1st Quality Produce to write this post. All opinions of content are my own. Thank you for supporting the brands and companies I collaborate with through Kroll's Korner.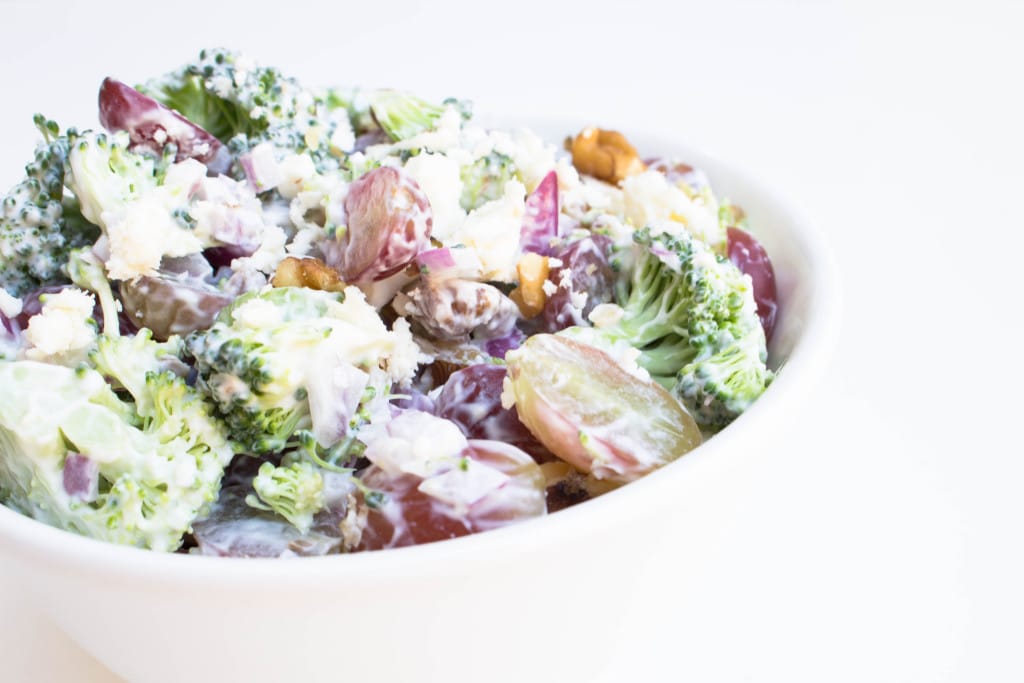 Broccoli Grape Salad
2015-09-13 18:38:53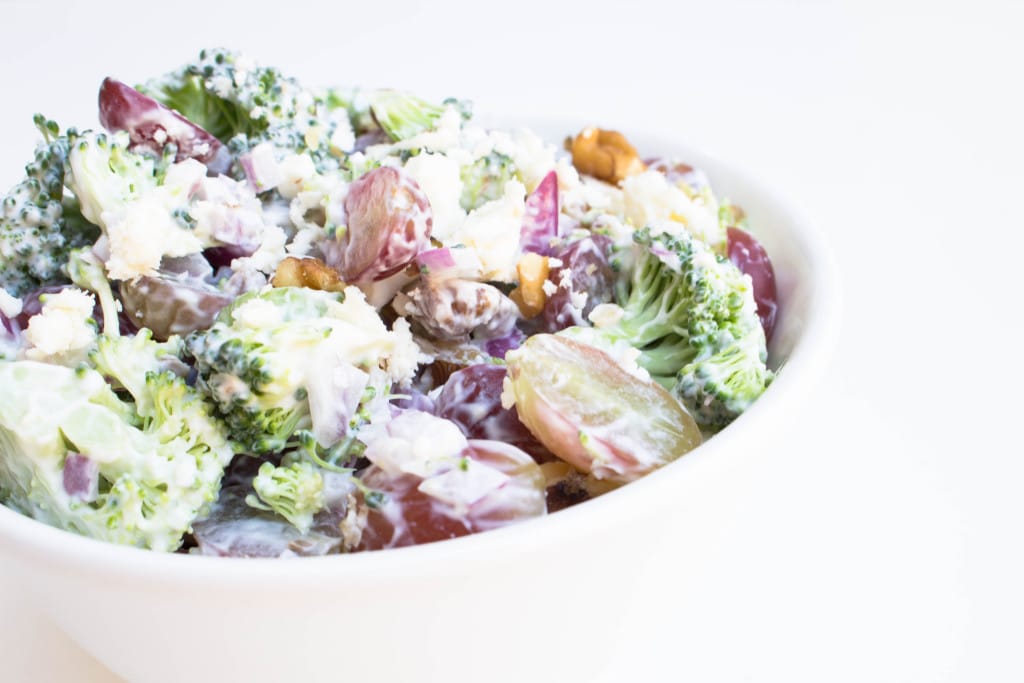 Serves 6
Ingredients
1 lg. head broccoli
1 cup grapes, sliced in half
1/2 red onion, chopped
1/4 cup feta cheese
1/2 cup chopped walnuts
2 Tbsp. honey
1 Tbsp. apple cider vinegar
1/2 cup light mayo
1/2 cup plain greek yogurt (I used Chobani)
2 stalks of celery, chopped
Instructions
Chop broccoli into bite sized pieces and place in large mixing bowl with celery, red onion, and grapes.
In a smaller bowl, whisk the mayo, yogurt, vinegar and honey together until all ingredients are blended. Pour yogurt mixture over the broccoli and grapes and stir. Next add the walnuts and feta and mix. Chill for about 20 minutes, then enjoy!
Krolls Korner https://krollskorner.com/