Desserts
Almond Butter Blossom Cookies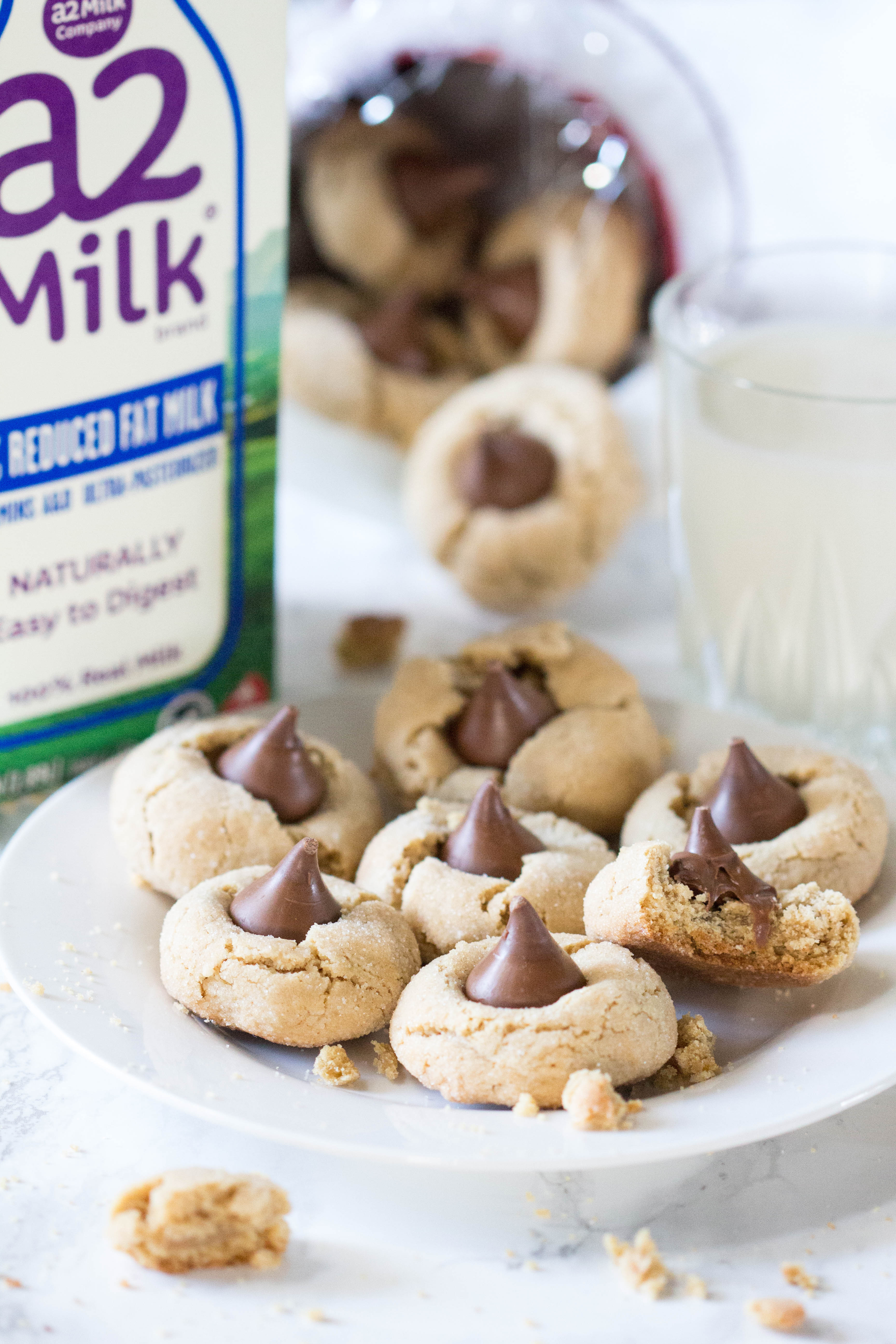 Happy National Cookie Day! To celebrate, I am gifting you all this delicious almond butter blossom cookie recipe. Cookies are a holiday must, try this recipe out for your next gathering!
Disclosure: I have a working relationship with the brand mentioned in this post. I was financially compensated for my time, and all opinions expressed are my own.
What makes these cookies different is not only did I use almond butter instead of peanut butter…but I also used a NEW milk on the market called a2 milk. Well, not too new for the foodies of the world, but for some of you it might be something you'll start noticing more in your supermarkets. So what is all the hype about this milk? What makes it different? Let me tell you!
To break it down simply…there are two proteins that are part of the casein proteins found in dairy products: A1 and A2 (more scientifically referred to as beta-casein A1 and beta-casein A2). With that said, these proteins are produced in different types of cows. Regular cows milk for example has a mix of both A1 and A2 proteins. With extensive research, it has been discovered the A1 protein in cows' milk might cause discomfort in some individuals. (Is that you?!) I know several people who stray from milk and dairy products because they have a slight sensitivity…it might be due to the A1 protein!
Click here to pin these almond butter blossoms for later!

Which leads us to a2 milk! A2 milk may help you if you have experienced discomfort from other milk. The milk is still coming from cows, but from cows that naturally produce only the pure A2 protein and none of the A1 protein. Magical, huh?! Studies have shown dramatic improvements of decreased gastrointestinal symptoms from avoiding the A1 protein in milk. BOOM! I love science. How cool is that?
Not only do these cookies have a2 milk in them…but they are perfect for dunking in your a2 milk as well! Such a delicious cuddle-on-the-couch treat during these winter months! Y'all know I will be having these for the next 2 weeks since I have so many cookies in my kitchen at the moment. And no, I am not complaining 😉
[Tweet "Happy National Cookie Day! To celebrate, I am gifting you this delicious almond butter blossom cookie recipe made with a2 milk! #a2milk "]
Another thing I love about this milk is it contains 10g of protein per 1 cup, the same amount of protein in the 2% cows milk in my fridge! A lot of times, people opt for almond milk for a more healthful option, but they are missing out on ~9g of the protein! Granted, in this time and age, most of us as meeting our protein needs…if not exceeding them. But you get my point 🙂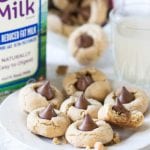 Almond Butter Blossom Cookies
These BEST EVER Almond Butter Blossoms are thee cookies you need to make. The perfect chewy and chocolate-y cookie for the holidays, or any time of year (let's be honest!)

Print
Ingredients
1

cup

almond butter

1

cup

shorteneing

1

cup

dark brown sugar

packed

1

cup

white

granulated sugar

2

eggs

large

1/3

cup

a2 milk

2

tsp.

vanilla extract

3 1/2

cups

All Purpose flour

1.5

tsp.

baking soda

1

tsp.

baking powder

1/8

tsp.

cinnamon

1

tsp.

salt

~1/2 cup white sugar

for rolling the cookie dough in before baking.

1, 11

oz.

bag of milk chocolate kisses

1/4

cup

Nutella (optional)
Instructions
Preheat oven to 375 degrees F.

In a mixer/Kitchen Aid, mix almond butter, shortening, dark brown sugar and white sugar together. Once nicely mixed, add in 2 eggs, milk & vanilla. Mix well.

In a separate large bowl, mix the flour, soda, powder, cinnamon and salt together. Then stir into the almond butter mixture.

Roll dough into small balls, and then coat in the granulated sugar. Place on cookie sheet (prepared with PAM,) or line a baking sheet with a silpat and repeat until cookie dough is gone! Tip: dust hands with flour before rolling so cookie dough doesn't stick!

Bake in the oven for 11-14 minutes. Immediately after removing from the oven, press a chocolate kiss in the center of each cookie. Let cool completely. ENJOY!
Recipe Notes
Depending on the size you make your cookies, this recipe can make up to 4 dozen!
Adapted recipe from All Recipes
Make these NUTELLA Almond Butter Blossoms by adding in 1/4 cup Nutella in with the sugars.
If you don't have a2 milk you can use regular cows milk.
As a Registered Dietitian Nutritionist, it makes me happy that options such as this milk are available. It gives me a wider rage of options to discuss with people who are faced with GI issues or have sensitivities. I was recently at a birthday dinner for a friend and I had the opportunity to bring up a2 milk with her and she was so excited to learn about it. That is my aim, not only with a2 milk, but for nutrition advice in general. Passing on the good word! 🙂
I am already dreaming of what I will be making next with this milk. But for now…I am going to go grab a cookie and watch a Christmas movie!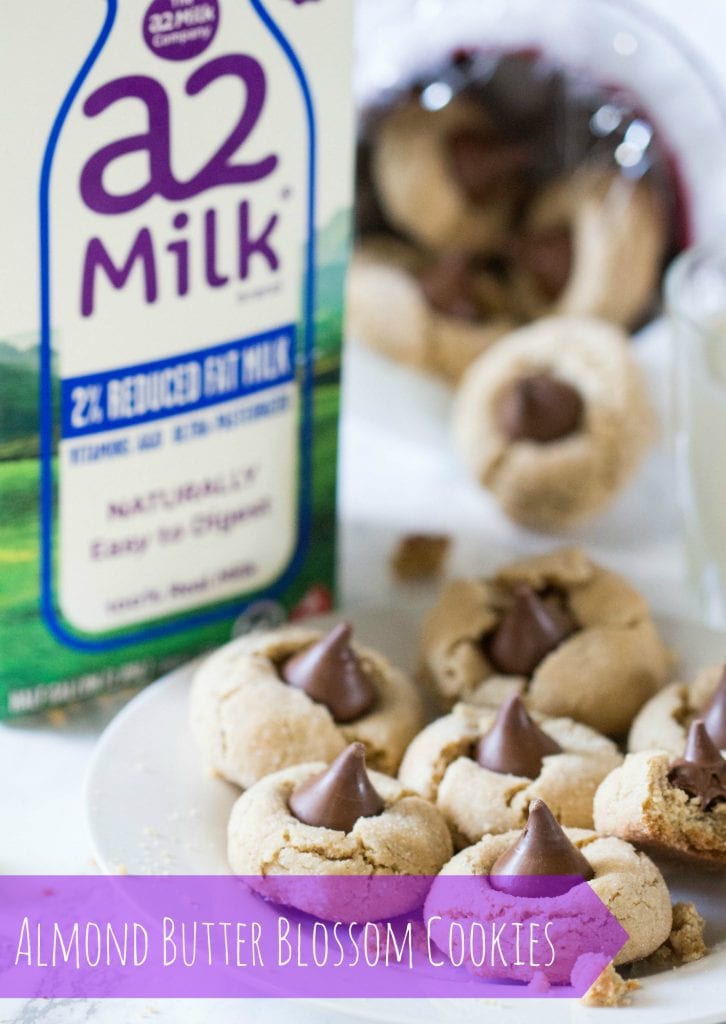 I'd love to see what you made!!
Share it with me on Instagram or Facebook and tag me @krolls_korner or use the hashtag #KrollsKorner!