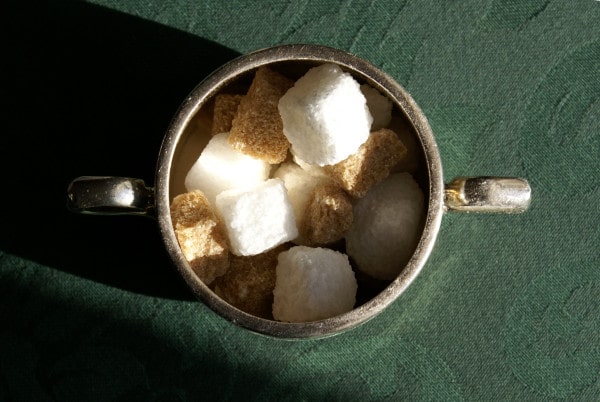 It comes to no surprise that sugar is harmful to our bodies. So with people always wanting a quick fix, multiple artificial sweeteners have been created. There are so many to choose from right? But are these even "good" for us? Which one should you use?
I recently attended a lecture on food additives and I attended FNCE in Atlanta. I obtained a lot of information on artificial sweeteners so let's first go over some categories of artificial sweeteners.
Artificial sweeteners are synthetic sugar substitutes that may be derived from nature (confusing I know), including herbs or sugar itself.
1. Xylitol, Sorbitol: Non-nutritive sugar alcohols made from fruits and veggies (xylitol) and red seaweed (sorbitol)
2. Aspartame (Equal, Nutrasweet): 200 times sweeter than sucrose. (Sucrose is the most common sweetener made up of glucose + fructose).
3. Saccharin (Sweet'N Low): 400 times sweeter than sucrose.
4. Sucralose (Splenda): 1000 times sweeter than sucrose!!
5. Stevia Leaf Extract (Truvia and Pure Via)
Some of the newest research out on artificial sweeteners right now: A study done proved artificial sweeteners actually RAISE THE BLOOD SUGAR LEVEL INSTEAD OF REDUCING IT. Saccharin, Sucralose, and aspartame alter the population of bacteria in the gut and trigger unwanted changes (higher blood sugar levels; risk factor for diabetes). Kind of scary information. Be careful with what you choose to put into your body.
I wanted to point something out about Truvia. Truvia is tricky because the company markets themselves as a "Stevia-based sugar substitute" and Stevia is all natural and good for you right? Well you must read the labels. The ingredient list on Truvia is this: Erythritol (Sugar alcohol), Rebiana and Natural Flavors. Just 3 ingredients and Stevia is not even one of them! Silliness right? The manufactures are allowed to market the product this way because Rebiana is actually derived from the Stevia plant; it is simply a molecule from the Stevia plant. So it is not even Stevia at all…in reality Truvia is probably just ~98% Erythritol. And what does "natural flavors" even really mean anyways!? Your guess is as good as mine. The reason you see NATURAL all over products (like Truvia) is because the term natural is not regulated by the FDA so there are no standards when using this word. The manufactures of Truvia did a great job selling the product as if it really is natural and related to Stevia with the color green and using pictures of leaves.
SO WHAT SHOULD YOU USE??
It really is up to you and your beliefs. Your best bet is to use real sugar (in moderation) or Stevia! (Ingredients: Stevia). You may be wondering about honey, maple syrup, brown sugar, or agave. There is no advantage in using one over the other. They are all sugar and will be metabolized in your body the same way, except agave nectar which should be used in a smaller amount since it is sweeter than sugar. In summary…I just wanted you to be aware of these sweeteners and the role they play on our bodies. Don't be fooled by some of the companies out there – read the labels and when in doubt, maybe just don't consume it. I hope this post was helpful and you will rethink pouring Truvia in your iced tea next time. 🙂