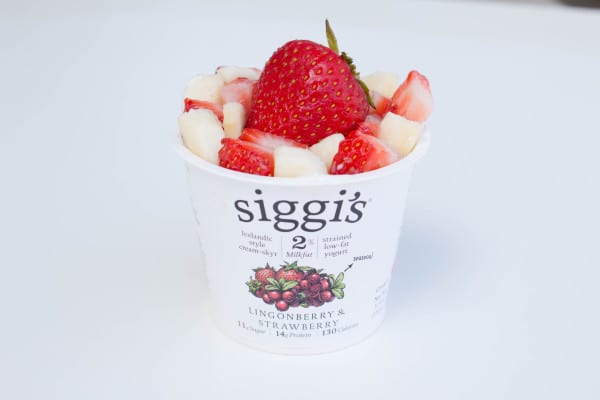 As some of you may know, I am a siggi's yogurt brand ambassador. This means I receive nutrition information and recipes to share with all of my readers…and maybe some coupons to help promote the product as well 😉 Greek yogurt is still a huge trend and I am pretty sure it is here to stay…at least for a little while longer. Considering I am in the food world you are probably just nodding your head thinking of course Tawnie likes Greek yogurt because it is a great source of protein in a dairy form why wouldn't she like it…
However, siggi's yogurt is not even Greek yogurt. Siggi's yogurt is Icelandic style-skyr. Now you are like what the heck is skyr (pronounced skeer)?! According to the FAQ section on their website…"Skyr is the traditional yogurt of Iceland that has been made for over 1,000 years. It is a strained non-fat yogurt. It is made by incubating skim milk with live active culture. Then the whey, the water naturally found in milk, is strained away to make for a much thicker, creamier and concentrated yogurt." The creamy-ness of this yogurt is unbelievably amazing…my mother and I even like to eat it as dessert sometimes! So no, this is not "Greek yogurt" but it still does have A TON of protein just like Greek yogurt.
So now on to the top 5 reasons I love siggi's!
1. Protein: While we are on the topic of it…siggi's yogurt is packed with protein. This is actually due to the skyr process I mentioned above. Sometimes in the mornings I struggle finding ways other than eggs and almond butter to include some AM protein in my diet. So grabbing a siggi's topped with fresh fruit, chia seeds, and granola is a common morning routine of mine! 14-15grams of protein per container is pretty awesome if you ask me! (2-3 times more protein than other yogurts).
2. "Simple ingredients, not a lot of sugar": AKA, their logo! Promoting this tag line, along with "More protein than sugar" on their packaging is genius…and TRUE. Many time we fall into the false advertising on food labels but siggi's is honest. Other yogurts on the market have up to triple the amount of sugar than siggi's! I love that zero artificial sweeteners are used and no high fructose corn syrup is added. In some of the flavored yogurts, agave nectar or cane sugar is added along with a little bit of sugar from the fruit added. The plain yogurt has only 4g of sugar (1 teaspoon) which I love! Adding in your own fresh fruit for the sweetness is a win-win situation.
3. All of the flavors! From pomegranate with passion fruit to pumpkin & spice to mixed berries and acai…I just cannot get enough! Siggi's is so innovative and up to date with new trends and flavor profiles people want.
4. More about their ingredients: All natural made from grass-fed cows, no aspartame, no sucralose, no gelatin, no artificial colorings, no preservatives, no high fructose corn syrup! Enough said.
5. Makes for a perfect on-the-go breakfast: Grabbing a single serving siggi's in the morning topped with some granola or fruit and chia seeds (like I mentioned earlier) is once great way to feel satisfied with a balanced breakfast during your hectic mornings.
I encourage you all to get out there and purchase some siggi's this week! I purchase mine at Whole Foods, and I am pretty positive some Von's are carrying it now as well. Major health food stores should be carries. But if you're not sure you can use siggi's store locator found here: http://siggisdairy.com/store-locator/