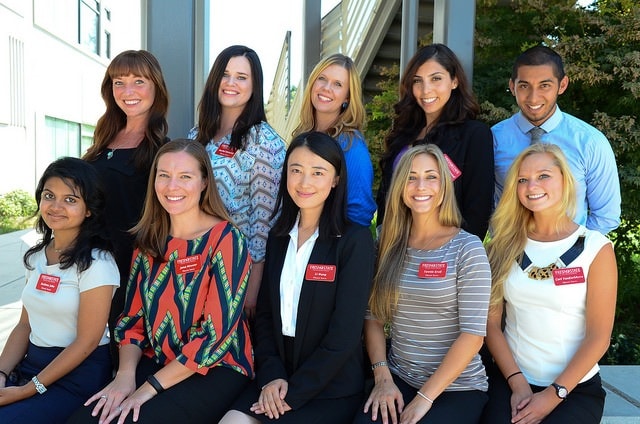 Fresno State Dietetic Interns 2014-2015
Hi all! I have not blogged since summer due to my busy schedule with the internship. This post goes out to all future dietetic interns, or even current interns out there. I was inspired to write this post by a previous intern from Fresno State who recently shared some dietetic internship "secrets" with my internship class. (If you're reading this thanks Carly!!) 🙂
Any-who, the internship has been more than eye-opening for me. I am just about to finish my 7th week as an intern!!! I just said that out loud for the first time, I cannot believe 7 weeks has gone by. The light at the end of the tunnel is still very very dim. BUT, they say time flies when you are having fun right? 😉
Even though I am not through with my internship, I feel compelled to share what I know so far….
TIPS and ADVICE for Dietetic Interns
Treat your internship like a 9 month interview. I have heard this from several past interns and it is more than true!! I have been in 4 different rotations so far and each one is similar to starting a new job. You are a little nervous walking in on the first day… 15 minutes early, coffee in one hand, and lunch pale on your shoulder. You meet your preceptor and you may start to get comfortable as the rotation goes on. I'm telling you right now…your preceptor is WATCHING whatever you are doing even if they seem like a cool and relaxed person. DO NOT check your Facebook, Instagram, Snapchat…whatever it may be unless you are on your lunch break. Your preceptors can potentially be hiring you after your internship and you want to impress them.
Do not gossip. Need I say more? The dietetic community, especially in the Central Valley, is small. You do not want to ruin your reputation. Be professional.
Every rotation is your favorite rotation: This is one of the tips Carly shared with us and I LOVE it! There will be some rotations you like more than others…but the key is to find something you like in every rotation. You may be in one of your food service rotations in the kitchen on the tray line scooping potatoes and green beans on patients plates for 2 hours and you'll be thinking…"How is this going to help me be a great Registered Dietitian?!?" Well. Your preceptor probably taught you to use a #10 scoop and what temperature the food should be held at. YES. Remember this. Foodservice is a huge part of the RD exam (so I've been told). So stay positive 🙂
Take Initiative: If you're in a rotation, and your preceptor has not given you anything to do yet…ASK. Be bold. You are a dietetic intern now, not an undergrad student. There is no more hand holding in the internship. You need to get yourself out there and find something to keep you busy. Your preceptor will love this.
Be Organized: This may sound obvious but I mean it. You should see my room, I have a huge white board with due dates written all over it…and TWO planners. Yes, I said 2. I'm crazy. Write everything down, even if it is as simple as "Email Tracy about blah blah blah." You are going to have a lot on your mind, and the last thing you want to do is show your preceptor lack of organizational skills.
Get to know your fellow interns: There are a total of 10 interns in my internship class. Get to know everyone, this is your new family for 9 months! They are the only ones who know exactly what your are going through. Lean on them, vent, go to yoga, and maybe even go to Happy Hour once in a while:)
Don't limit yourself: As dietetic interns we may sometimes feel as if we are at the bottom of the totem poll. Don't let this discourage you.  We are all so close to getting that "RD" behind our names. So what am I saying? DREAM BIG. If you do not want to follow a traditional RD career path, then don't do it. Email your favorite "RD crushes," start a blog, or set up a special rotation in your area of interest. Open up a private practice…do anything you want that will make you happy!
I think I have said more than enough…I will close with just a few bonus things to keep in mind:
Be thankful
Have fun
Communicate!
Be flexible
Pay attention to your passion
I am loving this journey and am excited for what's to come next. Thanks for reading!!!
xo,
Tawnie