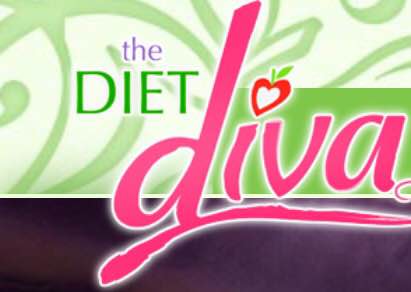 This blog feature is dedicated to Tara Gidus – The Diet Diva. Here is some background information (pulled from the Diet Diva website) about Tara before we dive into her Q&A. I think it is so important to know someone's story and how they got to be successful in our field of dietetics!
After working as the Director of Nutrition and Metabolism at Florida Hospital Celebration Health for 5 years, Tara felt like it was time to spread her wings and do her own thing. Tara started out as a company of one, seeing individual clients and acting as a consultant to various companies. Some of the early consulting consisted of assisting Disney with creating "well balanced" children's meals for the restaurants on property, working with designers at Tupperware to create a container for kid's lunches that would encourage healthy eating, and working with the medical staff to improve the nutrition of the employees at Rosen Hotels.
At the time of starting her own company, Tara was a national spokesperson for the Academy of Nutrition and Dietetics (formerly known as the American Dietetic Association). As a spokesperson for the Academy, she conducted 15-20 media interviews with reporters from television, radio, websites, magazines, and newspapers each month. Tara pitched herself as the "Diet Diva" to the national television show, The Daily Buzz, to become a regular expert in nutrition on the show. They agreed and the name stuck. Tara has used the name Diet Diva in her business since her first appearance on the Daily Buzz in January of 2005. Since that time, Tara has appeared on The Daily Buzz once or twice a month.
As the years went on, Tara began to expand her business adding big names like the Orlando Magic, University of Central Florida Athletics, and runDisney to her list of clients. She wrote Pregnancy Cooking & Nutrition for Dummies (Wiley, 2012) and co-authored Flat Belly Cookbook for Dummies (Wiley, 2014).
Tara's time is now devoted to hosting Emotional Mojo, a daily one-hour national television show as well as speaking and consulting to various organizations. Tara added her first full time Registered Dietitian to her staff in 2011, and is lucky enough to have two fabulous RD's on staff now. Kristina LaRue and Carissa Bealert, both Registered Dietitians on staff with Tara support her in various projects as well as seeing individual clients.
1. In a nutshell, describe how you got where you are today.
I worked hard! I have always been very determined and hard working, and to get to where I am today I developed a reputation for knowing my stuff, I nourished client relationships, and I capitalized on opportunities that came my way.
2. How did you decide to pursue the career you are working in today?
I always knew that I wanted to work with athletes and in nutrition. My current day to day career has developed through years of various experiences and deciding what I liked to do best.
3. What has been one of your biggest challenges as a Registered Dietitian and how did you overcome it?
I got really burned out seeing individual clients. Whenever I had someone who dropped off or didn't find success I took it personally. I struggled with "new and exciting" things to tell them to do. I had to take a step away from seeing individuals and diversify my career to do different things that gave me satisfaction and didn't drain me.
4. What are your success habits?
I've learned that I need to take time off in order to be my best. I used to just push, push, push and rarely take time off. That left me drained in every dimension. My success habits start with getting to bed to get the proper sleep I need, wake up very early to exercise, being fully present with my children, staying up to date and current, honing my skills, and cultivating relationships.
5. What motivates you?
Service to others. I am a people pleaser to a fault. I love to meet and exceed expectations in all relationships.
6. How do you add value in other individual's lives?
I think I am resilient and strong and I try to be a role model and teacher to help others do the same in their own lives with their own struggles and goals.
7. What do you like to do on your free time?
I love to spend time being active with my husband and kids. I have 4 boys and recently married, so life is busy! I also like to run and do 10K, half marathon, and marathons.
8.What are the most important character traits you think a student or intern should possess?
Open mind, sense of responsibility, eager to jump in and help out, the knowledge that they have some amazing opportunities and mentors if they allow themselves to be open to them.
9. What dreams and goals inspired you to succeed?
I used to want to get every award possible, be the best at everything, write more books, etc. Then I lost my husband to cancer at age 37 and was left a widow with 2 boys aged 3 and 5. My whole life got turned upside down. I realized that success was in relationships. Success was having my boys snuggle close to me as I put them to bed and tell me they love me. They didn't care how many books I had written or how many followers I had on twitter. My dreams and goals have shifted since that time. I still want to have a successful business, and I still work hard. But I don't care as much about the little things that really don't matter much. I want to earn enough to support my family, but I don't need to earn more than what we need if that means I become unbalanced and my role as mother and wife (got married 2 weeks ago!) suffers.
10. How and where do you find inspiration?
I find inspiration in the quiet moments of pure joy. When I am working too hard and feeling drained and stressed, I'm not at my best. I am inspired when I am relaxed and happy.
11.What do you do to live a balanced life?
I try to focus on what is most important in life. While professional accolades are wonderful, it's not what drives me most. I love my family and I work for a sense of accomplishment, but only so hard to make a living and feel good, but I live for the moments when I am with the people who matter most to me.
12.What is the biggest risk you have taken in your life?
I started my own business when I was still a single woman and had no one else to support me. I just decided that it was time to quit the stable job I had and take a chance. 11 years later….I have zero regrets!
13. What would you do differently given the opportunity?
Nothing…everything in my life has happened for a reason and has made me the person I am today.
14. What mistakes have you made and what did you learn from it?
I have made some choices to take on various consulting jobs in the 11 years I have been working for myself. Some of them are spectacular and some have caused a lot of wasted time, money, and energy.
15. What one thing to you still struggle with as an RD?
Addiction to chocolate! Seriously, I'm addicted!
16. What do you wish you knew as a student or intern?
Life has a lot of surprises in store….personally and professionally. Roll with it, be resilient, get back up when life beats you down, and you will succeed. Priorities change as you go through the course of your life. Be open to redefining success along the way.
17.What has been your most rewarding accomplishment?
When someone tells me that I changed their life for the better.
18. What do you believe is the most satisfying part about your line of work?
Motivating people to be the best they can be so they can achieve their personal mission.
19. What do you want to be remembered for?
Someone who loved and was loved.
Tara – Thank you so much for doing this Q&A with Krolls Korner! 🙂 I know your responses will motivate and inspire my followers!