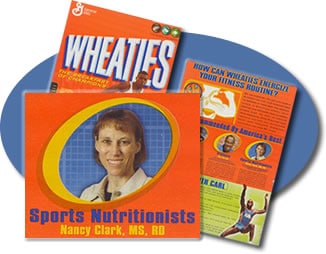 Hi all,
This post is dedicated to dietetic students/interns or anyone interested in Sports Dietetics. I had the pleasure to do an interview with Nancy Clark to get some of her insight about being a Sports Dietitian. Nancy Clark offers personalized sports nutrition counseling and also has a private practice. She teaches her clients how to have more energy, lose undesired body fat and feel confident about their food choices. For more information you can visit her website at: http://www.nancyclarkrd.com/
Here are a few of the questions I asked Nancy:
1. What has been your most rewarding accomplishment?
My two children; my best-selling Sports Nutrition Guidebook.
2. What do you believe is the most satisfying part about your line of work?
Helping others.
3. What are you most proud of in your career?
My books.
4. What do you want to be remembered for?
Helping clients win with good nutrition; being a good mom and friend.
5.What do you do to ensure you are continuously growing as a dietitian?
Attend as many meetings as possible.
6. How do you add value in other individual's lives?
I help my clients find peace with food.
7. What do you like to do on your free time?
Garden, walk my dog, be outside with friends.
8. What are the most important character traits you think a student or intern should possess?
Integrity.
9. What motivates you?
The success of my clients.
The following is a letter Nancy sent to me via email to share with you all who are interested in becoming a Sports Dietitian.
Letter form Nancy Clark,
Dear Aspiring Sports Dietitian,
The following information outlines the educational and work experiences that contribute to my career as a sports dietitian. Keep in mind that my experiences are personal to me. They are neither a formula for success nor a recommendation for other aspiring sports nutritionists.
I completed my undergraduate degree at Simmons College in Boston, graduating with a B.A. in Nutrition. Then, I completed my internship at Massachusetts General Hospital. Although I had little interest in hospital dietetics, I saw the importance of developing a strong clinical background. Hence, I worked for two years in a hospital environment. Next, I worked with the New England Dairy and Food Council as a nutrition education consultant. Concurrent with my personal interests in hiking, biking, and other outdoor sports activities, I recognized a professional interest in counseling sports-active people. I also recognized I needed further education in exercise physiology. Hence, I spent a year at Boston University's Sargent College of Allied Health Professions, where I graduated with a master's degree in nutrition, with a special focus on exercise physiology.
I have listed below the names of some colleges that offer degree programs in sports nutrition. You can find a more complete list at www.SCANdpg.org. Many of the larger state universities offer programs in sports nutrition. Or, you can combine programs in nutrition with exercise science to create a valuable curriculum. For more information, you might want to read the article I wrote on The Educational Needs of Aspiring Sports Nutritionists; it appears in the December 2000 issue of the Journal of the American Dietetic Association.
In terms of jobs, I was lucky to be in the right place at the right time. SportsMedicine Brookline hired me to be part of their sports medicine team with their podiatrists, orthopods, and physical therapists. They never really integrated me into their team, and when office space became limited, I chose to move my office into a new fitness center that opened a mile away. I counseled clients out of Healthworks for seven years, seeing primarily clients who were not fitness center members. I just recently moved into my own office space in Newton. Because the majority of my clients are self-referred, these moves have not affected my client-load.
The majority of my clients struggle with balancing food and exercise, or they present with complex nutritional issues including eating disorders. Hence, I believe sports nutrition is not an entry-level position. I recommend you acquire a strong clinical background (i.e., work for two years in a clinical setting); the experience will be invaluable for an aspiring sports nutritionist who will be dealing with heart disease, cancer, pregnancy, diabetes, hypertension, and a myriad of health conditions.
In addition to individually counseling fitness exercisers and competitive athletes, I give talks to local high school and college teams and sports clubs. I present workshops for health professionals and write sports nutrition articles. I generally do not have the time to take on interns or have people shadow me; my schedule is too erratic.
Given that nutrition is being recognized as an integral part a of a quality training program, I believe there are jobs to be found or created. Your task is to knock on the right door. Good luck!
With best regards,
Nancy Clark, MS, RD
If you are interested in attending a workshop on the topic of Nutrition & Exercise, you could learn lots of helpful information from the 1.5-day workshops I offer with Bill Evans, exercise physiologist. We offer them about 5 times per year, and rotate around the country, visiting major cities about once every four years. The workshop is also available online. For more information, please visit www.sportsnutritionworkshop.com.
Colleges and Universities that offer degrees in Sports Nutrition:
AUBURN UNIVERSITY
Auburn, Alabama Dept. of Nutrition and Food Science
MS Nutr. & Food Science with option in Sports Nutrition
BAYLOR UNIVERSITY
Waco TX
PhD in Exercise, Nutr & Preventive Health (proposed)
CANISIS COLLEGE
Buffalo, NY
MS Health & Human Performance, emphasis on sports
CALIFORNIA STATE UNIV – HAYWARD
BS Exercise-Nutrition; MS Exercise-Nutrition
COLORADO STATE UNIVERSITY
Fort Collins, CO
Dept Food Science & Human Nutr OR Exerc & Sport Sci
MS Exercise & Sport Sci OR Food Sci & Human Nutrition
COLUMBIA UNIV. TEACHER'S COLLEGE
New York, NY Dept of Health and Behavior Studies
MA Applied Physiology and Nutrition
FLORIDA STATE UNIVERSITY
Tallahassee FL Dept. Food, Nutrition & Exercise Sciences
MS Food & Nutr with specialty in Sports Nutrition
GEORGIA STATE UNIVERSITY
Atlanta, GA
MS Allied Health Professions w/specialization Sports Nutr.
MARYWOOD UNIVERSITY
Scranton PA
Dept of Nutrition & Dietetics www.marywood.edu
MS Foods & Nutrition w/ concentration in Sports Nutrition
MANSFIELD UNIVERSITY
Mansfield, PA
BS in Dietetics and Sports Nutrition
MONTANA STATE UNIV
MS Health & Human Development; emphasis Nutr & Exer.
2credit online graduate course, Fall semester
Nutrition for FItness and Performance: HDFN 580
http://btc.montana.edu/nten
Target Audience: Middle & High school teachers
PURDUE UNIVERSITY
West Lafayette, IN Dept Foods & Nutrition BS Nutrition, Fitness & Health; MS, PhD Nutr/Ex
COLLEGE OF SAINT ELIZABETH
Morristown NJ nutrition@cse.edu
BS+MS or MS Nutrition w/ Sports Nutrition track 15 credit certificate in Sports Nutrition & Wellness
SIMMONS COLLEGE
Boston MA
www.simmons.edu; click on School Health Studies
Certificate in Sports Nutrition (12 credits)
LOUIS UNIVERSITY
MS Nutrition & Dietetics with option in Nutrition and Exercise Performance
TEXAS WOMAN'S UNIVERSITY
Dept. Nutr & Food Sci
MS Exercise and Sports Nutrition
UNIVERSITY OF CONNECTICUT
Dept. of Nutritional Sciences
BS Exercise Science, concentration in Nutrition OR
BS in Nutrition, concentration in exercise science
MS and PhD programs are also available
UNIVERSITY OF UTAH
College of Health, Division of Foods and Nutrition
www.fdnu.utah.edu
MS with emphasis in Sports Nutrition
VIRGINIA TECH
Blacksburg, VA
Dept of Human Nutrition, Foods & Exercise
MS or PhD: Nutr for Sport & Chronic Disease
Undergraduate: BS in Foods, Nutrition & Exercise
DEAKIN UNIV. Online Sports NutritionCourse
www2.deakin.edu.au/handbooks/HealthBehav/health-h512.htm
ABERDEEN UNIVERSITY, England
Sports Nutrition degree program
For a more complete list, go to www.scandpg.org.
Thank you to Nancy Clark for providing this information, and thank you for reading! I hope this blog post was beneficial in your career in dietetics.